Delays on $161 Billion Virginia-Class Subs Reaches 15 Months
(Bloomberg) -- The Navy's newest Virginia-class submarines are expected to be 10 to 15 months late as contractors General Dynamics Corp. and Huntington Ingalls Industries Inc. try to recover from assembly faults that have dogged recent boats in the $161 billion program.
The average delay of 10.5 months is an increase from a seven-month average cited in March by the Naval Sea Systems Command for 10 vessels being built under a 2014 contract, according to a comparison of dates in Navy budget documents. The contractors, rival shipbuilders who are producing the submarines together, had sought to shave months off of previous construction periods.
The latest delay estimates may raise fresh concerns in Congress about whether the companies have the personnel, expertise and shipyard capacity to juggle three major projects: the 10 "'Block IV" vessels now under construction, as many as 10 more under a "Block V" contract signed in December and the start of construction later this year on the Navy's new $128 billion Columbia-class submarine program.
The Virginia-class is the U.S.'s primary submarine for land, surface and anti-submarine attack missions, with cruise missiles and torpedoes. It's also capable of carrying Navy SEALs and is envisioned as a future platform for launching underwater drones. The Columbia will be the nation's new launcher of intercontinental ballistic missiles to replace the current Ohio class.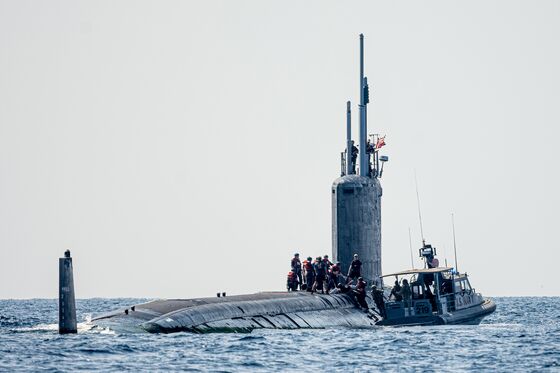 Adding to the complexity for the shipbuilders, the next round of Virginia-class submarines will be 30% larger than their predecessors because they'll have a new "payload module" to carry additional weapons, according to Bryan Clark, a naval analyst and senior fellow at the Hudson Institute in Washington.
"The shipbuilders will need to accelerate their efforts to efficiently use assembly space and get their workforce more proficient," Clark said.
Lawmakers are seeking to add a second Block V submarine to one requested by the Navy for next year.
Shelby Oakley, a Government Accountability Office director who manages the agency's ship acquisition reviews, said "The challenge for the shipyards in building both subs at the same time is real and something we are continuing to monitor as part of our ongoing work on the Columbia-class submarine."
The estimated delivery delays for the Virginia class include nine months for the USS Vermont, which is supposed to be delivered next month; 12 months for the USS Oregon, now scheduled for a November delivery; and 15 months for the third, the USS Montana, now scheduled for August 2021 instead of May of this year, according to delivery dates in Navy budget documents confirmed by the Naval Sea Systems Command. It said in a statement that "delivery schedules are expected to improve by the end of the block."
The Naval Sea Systems Command said in a statement that "the cumulative factors impacting delivery include limited floor space in assembly facilities to move multiple submarine modules through the assembly process, material availability, and an inexperienced workforce."
The command said the shipbuilders "are working to address these issues, and the Navy has seen early indications of improvement."
Construction of the subs by General Dynamics' Electric Boat unit and Huntington Ingalls' Newport News unit has "resulted in a roughly 50-50 division of Virginia-class profits between the two yards and preserves both yards' ability to build submarine reactor compartments -- a key capability for a submarine-construction yard-- and perform submarine final-assembly work," according to the nonpartisan Congressional Research Service.
Beci Brenton, a spokeswoman for Newport News, Virginia-based Huntington Ingalls, said in an email that "we have implemented improvements in the tools and processes used to manage our manufacturing schedules, flow of material and critical resources to improve and sustain performance through the construction of Block IV submarines and beyond."
Liz Power, a spokeswoman for Reston, Virginia-based General Dynamics, said "we have worked closely with the Navy to make continuous improvements in construction practices and reduce costs" and prepare to "expand our workforce, maintain two-per year production cadence of Virginia-class submarines and begin full production of the Columbia-class."
Once ships are delivered they undergo a shakedown phase after which they enter the fleet, so "our expectation is high-quality ships with very little deferred work," Rear Admiral David Goggins, the Navy's program executive officer for submarines, said in an interview.
Earlier delays were due to assembly issues at Newport News with hull modules. The Navy set up a "red team" in December 2018 to investigate root causes and craft an improvement plan, he said. Last year "was really about execution of that plan," which was successful, Goggins said.