Defense Stocks End Longest Losing Streak in a Decade
(Bloomberg) -- U.S. aerospace and defense stocks ended their longest losing streak in more than a decade on Wednesday, after the federal fiscal 2020 budget was released earlier this week.
The S&P Supercomposite Aerospace and Defense Industry Index gained as much as 1.2 percent, while the S&P 500 Index rose nearly 1 percent. The top gainers on the defense index included United Technologies, Huntington Ingalls, Raytheon, General Dynamics, Raytheon, Northrop Grumman, and Arconic.
Defense stocks had also been under pressure in the last few months of 2018 amid concerns about an impending peak in defense spending, even though valuations have now recovered from a late-December low.
The President's proposed $750 billion defense budget elicited mixed responses, with analysts noting that the plan prioritized funding for research and development over procurement. Overall, the proposal is expected to undergo revisions, analysts said, before an agreement is finally reached.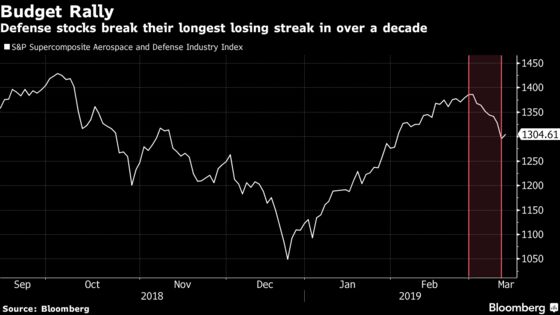 Bernstein said the budget represented an increase of 4.8 percent, or 3.3 percent excluding wall funding, and that the levels were in line with expectations. Morgan Stanley called the proposal "lackluster," and said it was unlikely to make it through Congress in the current form.
"The $750 billion headline defense budget was at the upper end of expectations, but light on investment funding," Morgan Stanley analyst Rajeev Lalwani wrote in a note to clients. "The mix of funds indicates a prioritization of research and development while trimming procurement, netting about 2 percent growth, shy of mid-single-digit expectations," the analyst noted, adding that the proposal underwhelmed investors.
Analysts also flagged a large component for Overseas Contingency Operations (OCO) or war funds, which they believe could raise questions, and relegate the current proposal to a "placeholder" status.
Read more: Space, Weapons Programs Get Boosts In Pentagon Budget Plan
"The OCO has long been a controversial topic as fiscal hawks believe it should have wound down years ago," Baird analyst Peter Arment wrote in a note, adding that "the latest fiscal 2020 requested levels are especially extreme and a very high water mark, even by historical standards, and will be met by resistance in negotiations."