Default Story Far From Over for Virus-Hit Emerging Economies
(Bloomberg) -- The drop in the amount of distressed debt across emerging markets has been a barely anticipated bonus for many countries this year.
But it's scant comfort for those nations still struggling with mounting obligations.
The number of emerging- and frontier-market nations with debt trading at distressed levels -- yields more than 10 percentage points above those on U.S. Treasuries -- has tumbled from as many as 19 at the height of the coronavirus selloff in March to about a half-dozen now. A Group-of-20 initiative to suspend official loan payments for the 73 poorest nations has helped many low-income countries avoid default and free up cash for their coronavirus responses by delaying about $5 billion in payments.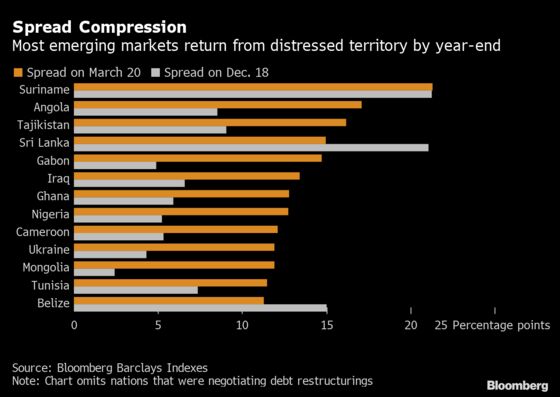 While a seemingly inevitable wave of defaults was avoided thanks to the unprecedented debt program and a tide of global stimulus, for some, finding a way to replenish fiscal buffers will remain a challenge.
Even if conditions are supportive, "many emerging-market issuers will still be far away from stabilizing their debt burdens," Bank of America Corp. strategists including Jane Brauer in New York and Andrew MacFarlane in London said in a note. "The market will need to see credible exit strategies."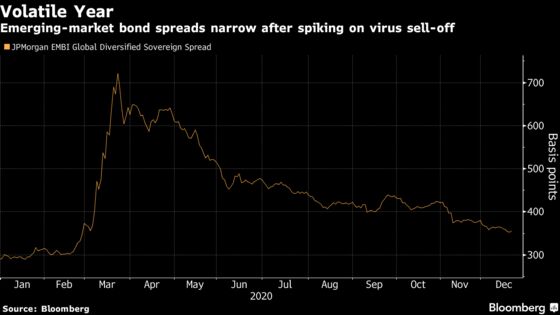 Argentina reached an agreement with creditors to restructure almost $65 billion of international debt in August, its third default since the turn of the century. Ecuador's renegotiation of $17.4 billion in international bonds the same month, together with a $6.5 billion credit line from the International Monetary Fund, has slashed the South American nation's obligations over the next decade.
They're not out of the woods yet. Argentina's peso is poised for the worst performance this year among emerging markets and the nation's bonds have fallen back to distressed levels. In Ecuador, which has repaid just two bonds in its history, investors are concerned the country may elect a left-wing candidate who has criticized the IMF deal in next year's presidential vote.
Zambia and Lebanon are trying to set up negotiations to restructure their bonds after years of debt exuberance forced them to turn to the IMF for help. The African nation became the first on the continent to default during the pandemic after missing a $42.5 million interest payment on $1 billion of Eurobonds maturing in 2024.
Lebanon has halted all payments on $30 billion of its international debt amid its worst financial and political crisis in decades. The turmoil deepened due to the pandemic and was exacerbated after an ammonium-nitrate explosion in Beirut on Aug. 4 that killed more than 200 people and caused up to $4.6 billion in damage.
Zambia's bonds trade at 42% to 86% of face value, suggesting investors are bracing for a range of possible restructuring outcomes across maturities. The outlook for Lebanon's notes is grim, with traders pricing in losses of at least 85% across the curve.
Lebanon's discussions with the IMF can't "lead to a positive outcome as long as different parties are not aligned," said Zeina Rizk, an executive director of fixed income at Arqaam Capital in Dubai. "The longer this drags, the more difficult and the longer it will be to get back on track."
Then there are the nations that are seizing on the yield hunt, despite precarious finances.
Sri Lanka's economy has been hurt by falling tourism revenue during the pandemic and a rapid increase in indebtedness. The government has pledged to stay current on obligations and analysts don't predict a default earlier than 2022. Still, a credit downgrade to CCC+ -- closer to default than investment grade -- highlights the risks.
Angola has been hurt by falling crude revenue after an accumulation of debt. The government has renegotiated about $6 billion in loan payments with China, seeking to maintain payments to Eurobond investors. A rebound in oil prices may improve the picture for Africa's second-largest oil exporter.
Smaller frontier markets are also facing trouble. Laos was said to have delayed a planned dollar-bond sale, with yields in excess of 40% on a note due June 2021. Public finances also remain precarious in Suriname and Belize despite debt deferrals this year.
Looking ahead to 2021, the coronavirus vaccine rollout should act as a tailwind for high-yielding debt next year, but distressed sovereigns are by their nature "more idiosyncratic," said Richard Briggs, an investment manager at GAM Holdings AG in London who holds emerging-market debt including Sri Lanka and Argentina.
The market could see "far fewer defaults or restructurings next year given some of the weakest sovereigns have already done so this year," he said.