Deere Slumps as Trade War Dims Outlook for Top Tractor Maker
(Bloomberg) -- The U.S.-China trade war is finally taking a visible toll on the world's biggest maker of tractors.
Deere & Co. is no longer "cautiously optimistic" as it has been for so long. The machinery giant reported lower-than-expected earnings and cut its annual guidance as its farmer customers shun major purchases amid uncertainty about demand for their products.
"Ongoing concerns about export-market access, near-term demand for commodities such as soybeans, and a delayed planting season in much of North America are causing farmers to become much more cautious about making major purchases," Chief Executive Officer Sam Allen said in a statement Friday.
Deere dropped as much as 5.5% on Friday, putting the stock on course for its worst month since September 2011.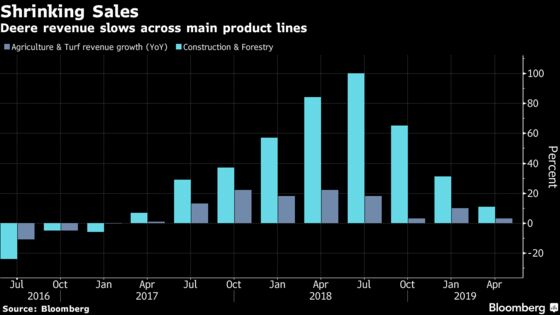 Sales for fiscal 2019 are projected to increase about 5% with net income forecast at about $3.3 billion, the Moline, Illinois-based company said. It previously forecast 7% sales growth and net income of about $3.6 billion. Deere missed on earnings for a sixth straight quarter.
U.S.-China trade tensions have been escalating just as wet weather in the Midwest is keeping farmers out of their fields when they should be planting. Demand for soybeans used in feed is expected to take a hit from the spread of African swine fever in China. All that has prompted analysts including JPMorgan Chase & Co. to cut their recommendations this week.
It's "not terribly surprising given the trade backdrop, the lack of visibility and what appears to be unrelenting wave of headwinds on the horizon" that the company "pretty much cut their 2019 outlook across the board," said Chris Ciolino, an analyst at Bloomberg Intelligence.
There are other signs the trade war is causing casualties. Inventories of new equipment at dealerships are bulging, and Deere's are slightly higher than the industry average, according to Mircea Dobre, a senior analyst at Robert W. Baird & Co. Deere said it was taking steps to manage inventories by cutting production levels in the second half to below retail sales.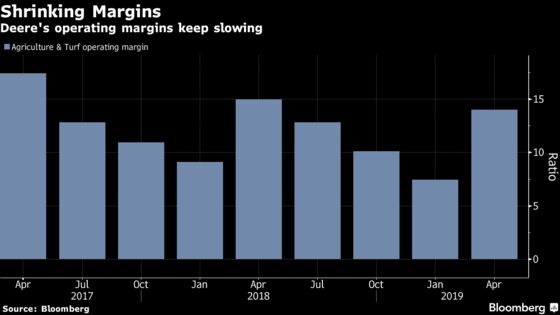 Deere's agriculture margins at 14% were weaker than anticipated, Ciolino said. Operating profit in the company's agriculture and turf unit declined compared to the prior year due to higher production and research and development costs, although that was offset by units selling at higher prices.
Farmers still have a need to replace aging equipment, which will drive some sales. While Deere reported an increase in quarterly sales from a year earlier, investors seem more interested in the company's outlook for the rest of 2019 and how much farmers' pain will impact discretionary upgrades of machinery.
For more on quarterly results, click here