Debt Pressures Nudge Rural Phone Companies Closer to the Edge
(Bloomberg) -- Rural telephone companies have tried to embrace the future by offering cloud services, bulking up on fiber and pushing broadband, but their landline businesses and huge debt loads are keeping them stuck in the past.
Windstream Holdings Inc. may wind up in bankruptcy after an effort to finesse its debt burden instead led to a stunning court defeat on Friday that could leave it unable to refinance. CenturyLink Inc. slashed its dividend last week and faces an activist's demand that it sell assets to bolster its balance sheet. Frontier Communications Corp., which halted payouts a year ago, ranks No. 1 on the list of deeply distressed debt issuers in North America.
The developments provided investors yet another reminder of the troubles facing an industry that is anchored to an aging copper-line phone network. Windstream, CenturyLink and Frontier have taken on a cumulative $60 billion in debt as they tried to overcome waning demand through acquisitions, leaving little cash for new investments.
"This business has been in decline for years and we haven't even touched bottom yet," said Kevin Roe, an analyst with Roe Equity Research.
The Windstream ruling roiled the market Tuesday, with the shares at one point falling to less than $1 after a court ruled that a 2015 spinoff violated terms of its bonds. That means the Little Rock, Arkansas-based company, which has borrowed about $5.7 billion, could face an onslaught of debt holders demanding immediate repayment.
"It is hard to envision how creditors would be willing to lend to them or extend maturities, which are substantial in 2020 and 2021," said S&P Global Ratings analyst Allyn Arden.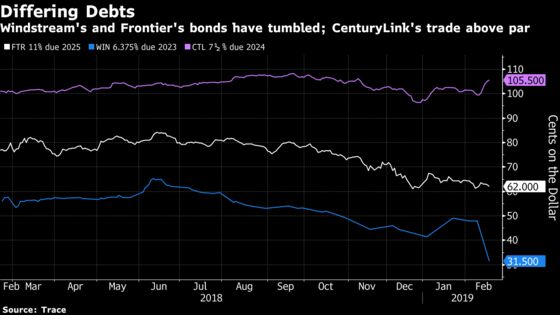 Frontier is in a better position because it doesn't have any significant maturities in the next two years, Arden said. The company reported about $17.6 billion of debt as of Sept. 30, including about $1.6 billion due in 2021. Most of that is secured, and those lenders would likely be willing to refinance as recovery prospects would remain strong, he said.
CenturyLink is now under activist pressure from Southeastern Asset Management Inc. to reduce its $36.5 billion debt load. But its dividend cut last week will help provide cash flow for debt repayment to meet its lowered leverage target, Arden said. He changed the company's credit outlook to stable from negative, maintaining the BB rating. The company may take out $6 billion of debt over the next three years, which could help reduce annual interest expense by almost $400 million, Bloomberg Intelligence analyst Stephen Flynn said in a report Tuesday.
Brigid Smith, a Frontier spokeswoman, declined to comment, and representatives from Windstream didn't respond to messages. CenturyLink spokesman Mark Molzen declined to comment on the investor proposal to sell assets. As for the dividend reduction, Molzen said the company now has more "financial flexibility to fund our growth and transformation initiatives while still returning more than $1 billion of dividends annually to shareholders."
While each company has a different debt profile, they're all junk-rated and face similar problems as more consumers ditch landlines for wireless.
"These companies don't have a dynamic business like wireless to build upon so they turn to consolidation to fight the declines, but that's pretty much run its course," Roe said. "I'd say we are in the ninth inning of M&A for this group."
Frontier kicked off a round of consolidation in 2009 by acquiring 4.8 million phone lines from Verizon Communications Inc. in Idaho, Michigan, Oregon and other states for $5.25 billion. In 2014, Frontier bought AT&T Inc.'s Connecticut business for $2 billion. The next year the company got an additional 3.7 million lines from Verizon in California, Florida and Texas for $10.5 billion.
Facing its own pressures to be a bigger competitor in business services, CenturyLink went shopping and tallied up six acquisitions in the past three years, including the $34 billion purchase of Level 3 Communications Inc.
"Debt is the biggest challenge," said Jennifer Fritzsche, an analyst with Wells Fargo & Co. "If they find a way to de-lever, it gets the weight off their backs and this becomes a different story."
Windstream tried to diversify its business by adding more fiber optic capacity to its network. In 2016, it acquired EarthLink, which had 145,000 route miles of fiber and steady sales of services to businesses.
In 2015, Windstream cut its dividend and spun off some of its network assets into Uniti Group, a real estate investment trust. The move made Windstream Uniti's largest customer. Aurelius Capital Management sued the company in 2017, saying the spinoff was a default on its debt, and the court agreed in Friday's ruling. Windstream said it will appeal.
The court decision speeds up what had been seen as a slow and steady deterioration for the phone companies, said Dave Novosel, an analyst at Gimme Credit.
"The ruling accelerates the whole end game if they need to come up with financing," Novosel said. "If people are more concerned about Windstream, then these fears could carry over to other companies and concerns about providing liquidity to them. They'd be hard-pressed to meet a near-term funding issue."