Debt-Laden U.S. Hospitals Face 'Critical' 30 Days, JPMorgan Says
(Bloomberg) -- With the coronavirus pandemic expected to test the limits of the U.S. health-care system, publicly traded hospitals sacked with billions of dollars in debt are the most susceptible to further losses in their share prices, according to JPMorgan.
"The next 30 days will be critical" as they cope with an anticipated surge in admissions, diagnostic requests, drug prescriptions and increased need for ICU capacity and staffing, analysts including Gary Taylor and Chris Schott wrote in a research note on Friday. At the same time, hospitals' revenue will be crimped by the deferral of elective surgeries, the analysts wrote.
The outlook for Community Health Systems Inc. and Tenet Healthcare Corp., two of the most indebted hospital companies, is particularly precarious as they are susceptible not only to the pressures of the Covid-19 virus but also to the risk that the outbreak will tip the economy into a recession, according to the JPMorgan analysts. If more Americans lose their jobs, the hospitals could see more patients covered by Medicare and Medicaid, which are less profitable, as well as an increase in unpaid bills.
Community Health has outperformed S&P mid caps with more than a 2% gain this year. After a recent refinancing in January, the next key debt hurdle for the company is over $5 billion that comes due in 2023, according to Bloomberg Intelligence analyst Mike Holland. The company has more than $12 billion of debt on its balance sheet.
Burdened by more than $14.5 billion in debt, Tenet's stock has dropped more than 50% so far this year. Baird analysts pointed out that Tenet has far more exposure to higher paying elective surgeries and could be hurt more than peers as those procedures taper off in favor of emergency room visits.
"One important point to remember that like politics, hospitals are local," BI's Holland said in an email. They "have large asset portfolios with meaningful geographic diversity," that could protect them if individual facilities get overburdened. Admissions could see some weakness in the first and second quarter, "but it's not going to crush these leveraged providers," he said.
Even the nation's largest publicly traded hospital company, cash-rich HCA Healthcare Inc., could feel some pressure on its earnings before interest, taxes, depreciation and amortization, JPMorgan said. HCA has slid more than 30% this year. And while it might not have hit the bottom yet, JPMorgan recommends HCA along with the insurer Cigna Corp. as good investments for those with a 12-month timeline. Analysts also favored the insurers UnitedHealth Group Inc., Humana Inc. and Centene Corp.
For health insurers "fear could exceed virus costs," at least in the near term. But if U.S. hospital admissions top one million and deaths exceed 100,000 the impact to managed care organizations could become significant. The S&P 500 Managed Care Index has fallen about 15% so far this year, compared with the broader market's 23% drop through Thursday. The Democratic presidential primaries have whipsawed managed care shares as voters contemplated candidate platforms that would have potentially done away with private insurance.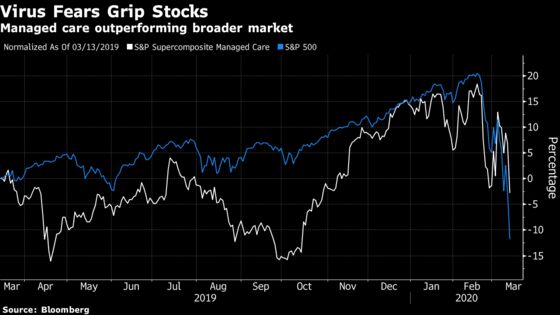 Analysts at Cowen also stepped in to say while they expected volatility for the insurers on recession fears, the virus would not "materially impact" this year's earnings. Cowen said its analysis overestimated on tests for the virus but didn't include "any assumption on potential offsets to medical costs such as postponed elective procedures, or in-office visits that were postponed or converted to telehealth."
For other providers, JPMorgan said home health demand as well as labor costs may jump, while "long-term care facilities could experience a fear-induced period of reduced occupancy."