Ashley Leads Coup to Oust Debenhams Chairman, CEO From Board
(Bloomberg) -- British billionaire Mike Ashley made one of his boldest moves yet, driving out the chairman of storied retailer Debenhams Plc just as the ailing department store chain teeters under a mountain of debt. The stock hit its lowest since 2006.
The coup led by Ashley, the controversial founder of the U.K.'s largest sporting goods chain, stirred speculation he may look to combine Debenhams with House of Fraser, another struggling retailer he rescued last year.
The turmoil comes at a tense time for Britain's shopping districts, as uncertainty surrounding Brexit and a shift to online purchases hammer brick-and-mortar retailers like Debenhams, which had a particularly tough Christmas season. Chairman Ian Cheshire will leave and Chief Executive Officer Sergio Bucher will quit the board after more than half of shareholders, led by Ashley, opposed them at the annual meeting Thursday.
"The dramatic and sustained decline in Debenhams' fortunes in the last three years is not simply down to wider physical retail market challenges," Suzy Ross, senior adviser at Accenture Retail, said by email. "Debenhams is a cautionary reminder of the criticality of the right leadership."
Debenhams tumbled as much as 22 percent on Friday, and was down 18 percent at 3.95 pence by 2:05 p.m. in London trading. The stock fell 86 percent since the start of last year.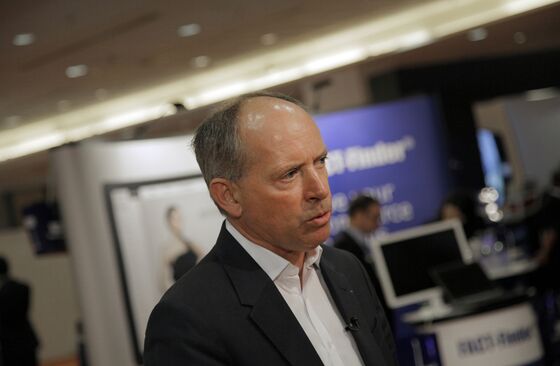 Two major shareholders voted against the reappointments: Ashley, the CEO of Sports Direct International Plc, who holds a roughly 29 percent stake; and Landmark Group Inc., a retail and hospitality company based in Dubai, which owns 7 percent. The votes came after Debenhams turned down a 40 million-pound ($51.3 million) loan offer from Ashley. Bucher, the CEO, will stay on in his management role.
Debenhams is in talks with lenders as it faces at least 300 million pounds of debt coming due starting next year. The stalwart of British shopping districts, which has struggled to keep pace with Amazon.com Inc. and other online retailers, said discounting will likely hurt its gross margin in the first half, following three profit warnings last year. It plans to close as many as 50 stores.
Ashley's vote against the CEO and the chairman raised speculation about his intentions for Debenhams, whose stores are located on many of the same shopping streets as House of Fraser outlets. Sports Direct could not be reached for comment.
The moves also raised questions about Bucher's role, since it's unusual for a CEO not to hold a director's position.
"It is not tenable for the CEO not to be on the board," independent retail analyst Nick Bubb wrote in a note. "The danger now is that Mike is allowed, in all the confusion, to buy the company on the cheap."
Debenhams said in a statement that the board has "full confidence" in Bucher, a former Amazon executive. Terry Duddy, Debenhams' senior independent director, was named interim chairman. Cheshire's decision to step down will take place with immediate effect, Debenhams said. He was appointed chairman in April 2016.
Debenhams has a 320 million-pound revolving-credit facility due in June 2020 and a 200 million-pound bond maturing in July 2021. It had drawn 161 million pounds on the facility as of September, according to the company's full-year results.