Death Knell for Momentum Stocks Will Have to Wait: Taking Stock
(Bloomberg) -- What could have been the death knell for all things momentum turned out to be anything but.
A whiff of disappointment in the earnings release from Salesforce, the nearly $100 billion goliath of the cloud software industry that has been on relatively shaky ground (down ~20% in the two months leading up to the report), could have sent a large swath of hedge fund hotels plunging to depths unseen in many months.
But Marc Benioff and crew turned in a quarter that could make a tech long-only PM's eyes tear up with glee. Earnings were another massive beat (third blowout in a row), billings crushed the consensus, the conservative forecast for the following quarter got a pass given management's history of blowing out initial outlooks, and the long-term guidance satisfied the growth cynics.
Salesforce 'Didn't Get the Memo'
Benioff's comments on the call should also serve to mollify, like when he said, "I continue to see strong growth because I've seen so much investment this year," which he then followed up with, "I see still several years ahead of good, solid growth for the economy." He later relayed this gem on Jim Cramer's show: "I don't think the company's ever been stronger or been in a better position."
In turn, Salesforce shares are surging more than 8% in the pre-market and poised to open back above the 200-day moving average, as the chart below shows. This is already lifting a wide array of cloud software peers in sympathy, for example Workday and Splunk, both of which report earnings on Thursday after the bell.
As the software analyst at Stifel points out in his earnings review note, "If the gears of the global economy are grinding to a halt, Salesforce.com didn't get the memo."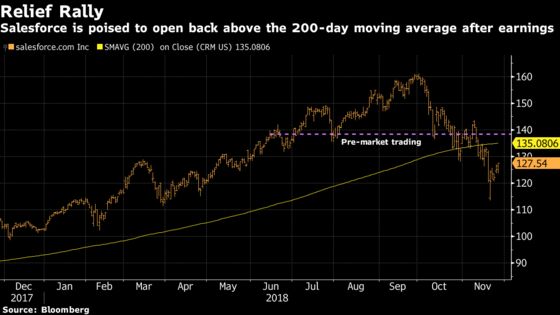 On a much lesser scale, but not insignificant, is the ~9% post-earnings rally in cloud storage name Nutanix (~18% of outstanding shares are held by hedge funds) thanks to a well-received long-term billings view.
Salesforce accounts for a sizable weighting in multiples ETFs and indices that pride themselves on tracking the performance of stocks that exhibit positive momentum signals or have heavier-than-the-norm ownership from hedge funds, so I'd expect today's relief rally to spill over into other equities that share these sorts of traits.
As mentioned in yesterday's Taking Stock column, there are a whole host of cloud-slash-momo names reporting earnings this week (VMWare, Workday, Splunk, Palo Alto, Veeva, and so on), but none that carry nearly the heft that Salesforce does. And so momentum stocks live to see another day, and the high beta/growth crowd notches a timely win over value when it needed it the most.
A Different Kind of Cloud
But while the Salesforce news may give an early bid to the Nasdaq (QQQs are up ~0.5% so far), the S&P 500 is seeing a more modest reaction as a different kind of cloud continues to envelop this market.
The ever-evolving trade war has everything but the kitchen sink at this point, from draconian scenarios if the Trump-Xi negotiations break down to threats of tariffs on iPhones and imported autos to potentially suspicious comments that China wouldn't seriously consider selling Treasuries as a means of fighting fire with fire. It all appears to be coming to a head in the next few days with the G-20 meeting, where Trump and Xi are expected to meet (and now dine!), but clouds will continue to obscure the outlook until we get any sort of clarity from either side.
Another overhang is the Fed and what their overall stance is towards future rate hikes at this juncture. Fed speak on Tuesday had acknowledgements here and there of weaknesses in the economy (some, of course, tied to the impact from the trade war), but it may be today's midday speech by Fed Chair Powell at the Economic Club of New York that grabs the most headlines.
Evercore ISI's head of central bank strategy Krishna Guha has said the speech may be the "most consequential" of Powell's tenure to date, and all eyes will be on whether he softens the blow from his early October comments about hiking to a point where rates start to restrict economic growth.
A dovish hint in the message would be welcomed by the market, though it may be tough for Powell to bite the bullet given it's been less than 24 hours since Trump lashed out at the Fed Chair for the umpteenth time: "So far, I'm not even a little bit happy with my selection of Jay," he told the Washington Post. "Not even a little bit."
Software stocks, and anything deemed momentum, as tech bulls breathe a sigh of relief after Salesforce results, as mentioned above
Chinese Internet stocks on positive reactions in both Weibo, SINA, and Bitauto after earnings
Apparel names after $10 billion market cap Burlington Stores screams higher on a beat
Jewelry makers with Tiffany tanking 9% on weaker than expected comps
Packaged food stocks with JM Smucker slipping almost 6% on an earnings miss
Several notable industrials (3M, Eaton, CSX, United) and semiconductors (Micron, Teradyne) presenting at conferences today
Pot stocks with several majors participating in Cowen's one-day Boston Cannabis Summit
Morgan Stanley, which has been at the forefront of the semiconductors caution train, is upgrading Apple supplier Skyworks to an equal-weight (after two years at an underweight) following the appropriate amount of negative revisions from the Street. The analysts are resuming coverage on Broadcom with an equal-weight thanks to low valuation.
Mizuho says GPU pricing is starting to rebound for the first time since the protracted declines (flashback to the "Crypto Crazed Pricing Peak" in February), which is a "big positive" for Nvidia and AMD. The analysts reiterates buy ratings on both stocks.
Apple gets defended by the Wedbush bull and sees a hint of interest from Bernstein, which has been on the sidelines. Wedbush's Dan Ives cuts the price target to $275 (still almost $50 above the average on the Street), though says the stock remains a favorite tech name heading into 2019 "despite the horror show over the last month seen out of Cupertino." Meanwhile, Bernstein's Toni Sacconaghi notes that a good amount of the bad news may already be priced in, though awaits further sell-side estimate reductions for shares to positively inflect.
Deutsche Bank upgrades rail major Union Pacific to a buy on scope for at least $3 billion in profit improvement and a belief that management is under significant pressure to achieve its cost targets. The bank also sees potential for the company to be part of broader strategic action within the sector given its position as the largest Class 1 rail and best-in-class pricing power.
Tick-by-Tick Guide to Today's Actionable Events
Today -- Deutsche Bank hosts two-day gaming, lodging, leisure and restaurants 1x1 conference with CZR, HLT, IGT, MGM, VAC, WYND, WYNN among others
Today -- TROX hosts investor meeting
Today -- IPO lockup expiry: AMBO
7:00am -- MBA Mortgage Applications
7:00am -- SJM earnings
7:30am -- DKS earnings
8:00am -- UAL at Credit Suisse Industrials conference
8:00am -- AGN at Evercore ISI HealthconX conference
8:30am -- Core PCE, GDP, Wholesale Inventories
8:30am -- TIF, SJM earnings call
8:35am -- CG co-founder David Rubenstein at Bloomberg "The Year Ahead" event
8:45am -- CSX at Credit Suisse Industrials conference
8:45am -- PFE, CVS at Evercore ISI HealthconX conference
9:10am -- TPG co-CEO Jim Coulter at Bloomberg "The Year Ahead" event
9:30am -- MMM at Credit Suisse Industrials conference
9:30am -- BIIB, CNC at Evercore ISI HealthconX conference
10:00am -- New Home Sales, Richmond Fed
10:00am -- DKS earnings call
10:30am -- DoE oil inventories
10:45am -- CRM at Credit Suisse TMT conference
10:45am -- TLRY, CRON, CGC, APHA at Cowen cannabis summit
11:00am -- AMGN, ILMN at Evercore ISI HealthconX conference
11:00am -- MSFT annual meeting
11:10am -- DUK CEO Lynn Good at Bloomberg "The Year Ahead" event
11:30am -- Fed's Powell speaks to Economic Club of New York
11:30am -- BoE Financial Stability Report and stress test results
11:30am -- CDNS, CDW, EQIX at Credit Suisse TMT conference
11:45am -- BoE's Carney speaks at press conference
12:00pm -- TWOU, WIFI, RMBS, INAP at Credit Suisse TMT conference
12:00pm -- WTW CEO Mindy Grossman at Bloomberg "The Year Ahead" event
12:30pm -- RPM investor day
12:30pm -- NTAP, CTXS, KEYS, BE at Credit Suisse TMT conference
12:50pm -- Volkswagen of America CEO Scott Keogh on Bloomberg TV
1:00pm -- ULTI, SIMO at Credit Suisse TMT conference
1:15pm -- ETN at Credit Suisse Industrials conference
1:30pm -- BX COO Jonathan Gray at Bloomberg "The Year Ahead" event
1:30pm -- INST, DBD at Credit Suisse TMT conference
1:50pm -- MDLZ CEO Dirk Van de Put at Bloomberg "The Year Ahead" event
2:45pm -- MU at Credit Suisse TMT conference
3:30pm -- CSOD, STM, Ripple at Credit Suisse TMT conference
4:00pm -- EVBG, SWCH at Credit Suisse TMT conference
4:05pm -- BOX, VEEV, PIXY, TLYS earnings
4:15pm -- SMTC, GES, LZB earnings
4:15pm -- BLUE, ARNA at Evercore ISI HealthconX conference
4:20pm -- IAC CEO Joey Levin at Bloomberg "The Year Ahead" event
4:30pm -- RNG, HIMX at Credit Suisse TMT conference
5:00pm -- BOX earnings call
5:00pm -- TER at Credit Suisse TMT conference
5:30pm -- Infineon, DOMO at Credit Suisse TMT conference