Dealmakers Race Past $4.1 Trillion Record With Months to Spare
(Bloomberg) -- The global boom in mergers and acquisitions has just delivered dealmakers their best-ever year -- on $4.11 trillion and counting.
Numerous records have already tumbled in recent months and it was just a matter of time before the previous high set in 2007 was cleared.
"M&A bankers are always blamed for being perpetually optimistic but the data is quite compelling," said Stephan Feldgoise, co-head of global M&A at Goldman Sachs Group Inc. "Whether it be large-cap M&A, sponsor M&A, SPACs, strategic repositioning coming out of Covid, the numbers have been just extraordinary."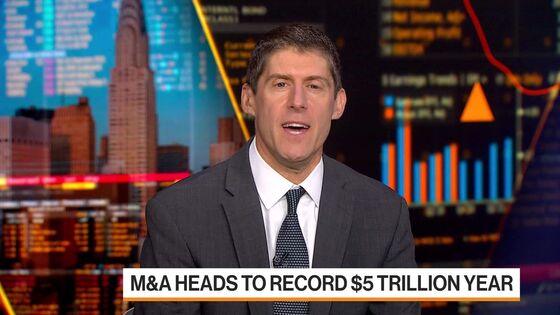 Volumes have been rising across sectors and regions, fueled by cheap financing and super-acquisitive private equity buyers. Deals in the $1 billion to $10 billion range -- a sweet spot for buyout firms -- have underpinned the boom, in the notable absence of $50 billion-plus blockbusters.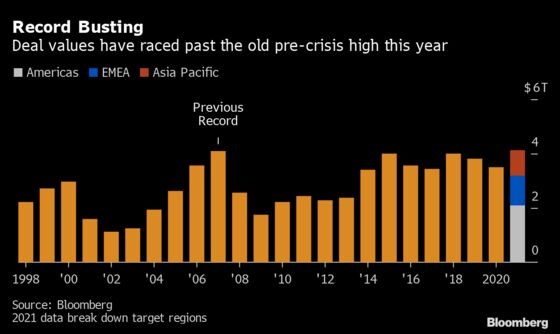 Standout transactions this year have included the leveraged buyout of Medline Industries Inc., Canadian Pacific Railway Ltd.'s hard-fought takeover of Kansas City Southern, and the long-awaited merger of German real-estate firms Deutsche Wohnen SE and Vonovia SE.
With more than two months of 2021 still to run, there's opportunity yet for dealmakers to chase down the $5 trillion milestone. Private equity firms are already circling GlaxoSmithKline Plc's 40 billion-pound ($55 billion) consumer arm, which could lead to the biggest buyout of all time, Bloomberg News reported this month.
"One category where you could potentially say we're still expecting robust resumptions in activity is cross-border," said Feldgoise. "That's been limited by geographic travel and Covid restrictions, which hopefully it feels like we're moving past to a degree."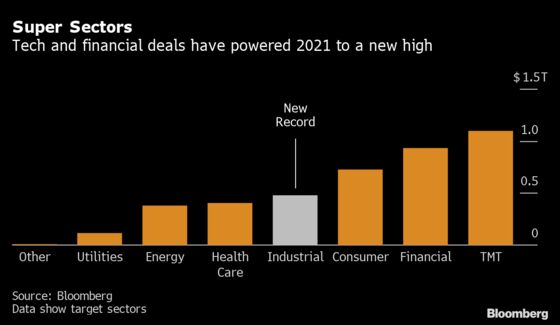 Wall Street banks dominate the global advisory rankings. Goldman Sachs leads the way, followed by rivals JPMorgan Chase & Co., Morgan Stanley, Bank of America Corp. and Citigroup Inc., Bloomberg data show.