Dealmakers Get Back to Work With Midterm Drama Receding
(Bloomberg) -- For weeks, clients have been peppering Wall Street's busiest rainmakers with questions -- not only about a stock market rout or prospects for a record-smashing year, but also about the U.S. midterm elections.
"I can't remember a time when there has been so much interest in the midterm elections from other countries," said Tom Miles, head of Americas M&A at Morgan Stanley.
"When I was in Japan last week it was the topic that just about everyone wanted to discuss and analyze," he said.
With Tuesday's ballots counted and despite prospects for gridlock in Washington, M&A advisers seem to have reset to business as usual. Markets rallied Wednesday after Democrats won control of the House and Republicans held the Senate. The split Congress makes it likely that Republican-backed tax cuts will remain in place and unlikely that either party will be able to push through big changes to health care.
"It was kind of like when a company reports earnings and they're good but the stock price doesn't jump and market mavens say it was baked in," said Bill Curtin, global head of M&A at the law firm Hogan Lovells International LLP.
"I would say this result was baked in," he said.
Companies didn't shy away from big deals in the run-up to Tuesday's election. More than $290 billion in M&A transactions were announced in the five weeks before the vote, making this year the third busiest election season since the millennium, according to data compiled by Bloomberg.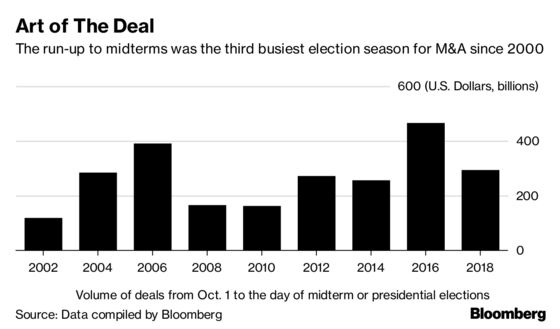 The largest deals, notably, were tie-ups among U.S. companies. New York tech giant International Business Machines Corp. is paying $33 billion for Raleigh, North Carolina-based Red Hat Inc., while defense contractors L3 Technologies Inc. and Harris Corp., of New York and Florida respectively, joined forces to create a $33.5 billion company.
That fits with Trump's "America First" rhetoric and his clamp-down on acquisitions by overseas buyers. His administration has broadened the powers of the Committee on Foreign Investment in the U.S. and blocked Broadcom Inc.'s merger with Qualcomm Inc. on national security grounds.
There's still plenty for deal-hungry companies to worry about.
"Trade friction, Brexit and potentially slower earnings growth are bigger issues for companies," Miles said. "The midterm results and a divided U.S. government on its own shouldn't change drivers for M&A activity in the near term."