Dealmaker to Tech Stars Has Record Flop After Hong Kong IPO
(Bloomberg) -- It has been a torrid first month of trading for one of Asia's top technology dealmakers.
Shares of China Renaissance Holdings Ltd. have lost more than half their value since their Sept. 27 debut. The firm posted the worst ever first-month performance among companies that raised at least $100 million in a Hong Kong initial public offering, according to data compiled by Bloomberg.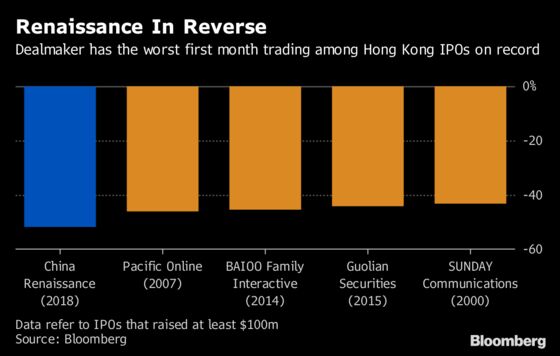 The tumble is a blow for the boutique investment bank that has worked as a bridge between China's technology giants like Meituan Dianping and Didi Chuxing Inc. and global capital markets. Reasons for the drop range from stretched valuations to a downturn in regional equity markets. Meituan fell 20 percent in its first month after a September debut in Hong Kong.
China Renaissance struggled from the start, falling 22 percent on its first day after limited interest from retail investors. The purchase of about 12.75 million shares by the deal's stabilization agent, Goldman Sachs Group Inc., did little to stem the rout.
The Beijing-based company now plans to buy back as much as HK$400 million ($51 million) of stock. "The fundamentals of our business are strong," a China Renaissance spokesman said by email. "We hope that the public markets will fully appreciate the intrinsic value of our business, its profitability, diverse revenue streams and competitive advantages."