DBS Says Coronavirus Could Cut 2% From Revenue This Year
(Bloomberg) -- DBS Group Holdings Ltd. expects the coronavirus to hurt revenue slightly this year as it unveiled steps to alleviate the impact of the outbreak on small businesses and home owners.
Assuming it's controlled by the summer, the virus will impact revenue by around 1%-2%, Chief Executive Officer Piyush Gupta said in a presentation Thursday after Singapore's biggest bank posted higher fourth-quarter profit. Shares of DBS opened higher on optimism that the bank will withstand the effects.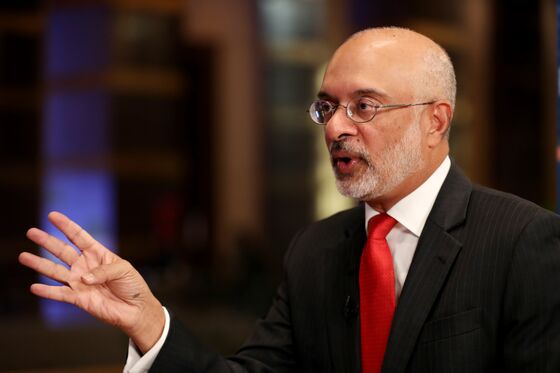 The expected revenue hit "is modest and reassuring in the light of the strong numbers for the fourth quarter," said Kevin Kwek, a senior analyst at Sanford C. Bernstein.
DBS is one of the first major Asian banks to flag the risks to earnings from the virus, which has claimed more than 1,300 lives and spread across the region. The outbreak has penetrated the bank, where an employee at its Singapore headquarters was diagnosed with the disease earlier this week, prompting it to send 300 workers home.
In line with lenders in Hong Kong and Singapore that are helping clients during a virus-hit economic slowdown, DBS is offering a six-month debt moratorium on principal repayments for property loans extended to small and medium-sized businesses in Singapore and Hong Kong, as well as on mortgage loans for retail clients in Singapore, it said.
United Overseas Bank Ltd., a local smaller rival, has allocated S$3 billion ($2.2 billion) of "relief assistance" to Singapore companies aimed at addressing near-term liquidity, it said Wednesday.
Shares of DBS rose 0.6% as of 9:42 a.m. in Singapore, paring this year's decline to less than 2%.
Policy makers around the world are assessing the potential economic hit from the virus, which originated in China and has already disrupted travel, commerce and manufacturing throughout Asia. Singapore is bracing for a tourism slump that DBS economists say might wipe 0.5 percentage point off this year's growth.
For DBS, the impact isn't confined to the domestic market: more than a quarter of its revenue comes from Greater China, including Hong Kong. Oversea-Chinese Banking Corp. and UOB will report their results on Feb. 21.
DBS has been implementing a policy of splitting teams and having staff work from home since the Singapore government upgraded its disease alert to "orange" last week, the highest level since the SARS epidemic. On Wednesday the bank told employees on Level 43 at its Marina Bay Financial Centre Tower 3 headquarters to work from home after a 62-year-old staff member tested positive. Later Thursday it will brief on its earnings by webcast rather than in person.
DBS posted fourth-quarter profit that climbed 14% to S$1.51 billion, led by income from lending and wealth management. That compared with the S$1.49 billion average estimate of five analysts surveyed by Bloomberg. Full-year earnings also climbed 14%, to a record S$6.4 billion.
What Bloomberg Intelligence Says:

DBS Group Holdings' resilient wealth-management income and improving cost efficiency may offset 2020 profit headwinds from margin compression and subdued loan growth.

--Analyst Diksha Gera

--Click here for the research
Even before the outbreak, Singapore lenders were anticipating slower growth and shrinking interest rates to put pressure on loan income. DBS's net interest margin contracted last quarter.
Net interest margin shrank 4 basis points from the preceding quarter to 1.86%, and was also lower than a year ago.
Return on equity fell to 12.1% from 13.4% in the previous quarter.
Wealth assets under management rose 2% on quarter to S$245 billion; wealth management income gained 31% year-on-year.
Nonperforming loan ratio was 1.5%, unchanged from the previous quarter and a year ago.
Allowances for credit and other losses dropped 40% from a year earlier.
Income from Hong Kong and the rest of Greater China climbed 1.8%.
The bank declared a final dividend of 33 Singapore cents, taking annualized dividend to S$1.32 per share, up 10%.