DBS's Wealthy Clients Are Trading Again After Last Year's Freeze
(Bloomberg) -- DBS Group Holdings Ltd.'s chief executive said rich clients are getting more active in trading again, recovering from fourth-quarter turmoil that caused a slump at its wealth management unit.
"People just froze" because of the equity market sell-off late last year, Piyush Gupta said in an interview with Bloomberg Television on Monday, soon after his bank reported a 10 percent increase in net income for the three months to Dec. 31.
Income from wealth management dropped to the lowest in two years, as Southeast Asia's biggest bank felt the same aftershocks from tumbling markets as global private banking giants UBS Group AG and Credit Suisse Group AG.
"The wealth management fees in Asia tend to follow animal spirits and market sentiment," Gupta said. "You are already seeing that come back in the first quarter of this year" as markets have recovered, he added.
DBS shares rose as investors bet the bank will continue to benefit from loan growth and higher interest rates even as risks linger from the U.S.-China trade dispute. Those factors helped outweigh the difficult quarter in the bank's wealth and trading operations.
"Margin picked up, loan growth wasn't badly affected by trade wars, credit quality remained stable,'' said Kevin Kwek, an analyst at Sanford C. Bernstein.
DBS's loan pipeline this year looks healthy, Gupta said in the interview. While the outlook for interest rates is the biggest risk for the bank this year, net interest margins will continue to widen even after the U.S. Federal Reserve signaled a pause in its monetary tightening, Gupta said. Any Fed policy reversal, however, would be a "headwind," he added.
Amid the turmoil in the markets, DBS's trading operations recorded a pretax loss of S$54 million ($40 million). That was bigger than the S$50 million posted in the second quarter, which Gupta described at the time as the worst since he joined the bank a decade ago.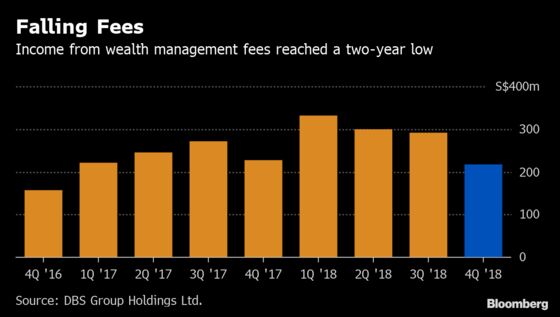 Separately, DBS is in discussions on forming a China securities business partnership and expects to ink a deal this year, Gupta said. Regulatory clearances could take longer, he added.
"We're actively talking to people about trying to put together something on the securities front," focusing on the Greater Bay area, the CEO said. The bank will continue to support Chinese companies that are expanding abroad, he said.
Net income climbed 10 percent to S$1.32 billion in the three months ended Dec. 31, a touch lower than the S$1.34 billion average estimate of analysts surveyed
Net interest margin gained nine basis points from a year earlier to 1.87 percent, but only one basis point from the previous quarter
Loans expanded 7 percent to S$345 billion
Wealth management fees fell 4 percent to S$218 million