David's Bridal Files for Bankruptcy With Plan to Stay Open
(Bloomberg) -- David's Bridal Inc. filed for bankruptcy with a plan to cut debt by more than $400 million, hand ownership to lenders and keep stores open during a reorganization.
The Chapter 11 filing in U.S. Bankruptcy Court in Delaware on Monday listed liabilities of more than $500 million and assets of more than $100 million, according to the filing. The court-supervised restructuring allows the business to keep operating, and thus avoid the calamitous and sometimes tearful impact on brides that often accompanies the collapse of wedding retailers.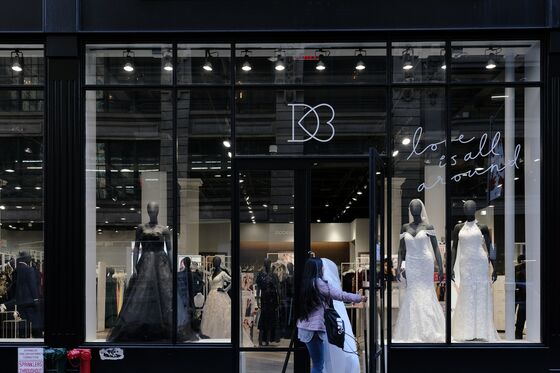 David's signed a restructuring support agreement with its main stakeholders before going to court, a step that could speed the company through bankruptcy in a matter of weeks, and it doesn't expect major store closures or liquidations. The company had more than 300 outlets in the U.S., Canada, U.K. and franchise locations in Mexico as of mid-year.
The restructuring agreement gives a majority of the reorganized equity to senior lenders, including Oaktree Capital Group LLC. The Conshohocken, Pennsylvania-based retailer asked for court protection after skipping an Oct. 15 interest payment on a loan.
The retailer set specific milestones through its restructuring support agreement that allow for additional flexibility, but on a tight schedule. Jan. 7 is a deadline for the retailer's confirmation hearing.
David's obtained commitments for $60 million in new debtor-in-possession financing from its current term loan lenders and a recommitment of its existing $125 million revolving credit facility to support the company through its restructuring, according to a news release. The retailer aims to emerge from bankruptcy by early January, and says vendors and manufacturing partners won't be impaired.
After the restructuring, David's will hand over the keys to its creditors. Existing asset-based revolving lenders will carry over their commitment, which will be refinanced into a new ABL facility upon-emergence. Pre-petition term loan lenders will get 76.25 percent of the reorganized equity, while those who participate in the $60 million new money DIP financing would get an additional 15 percent of the new equity. Unsecured noteholders would receive around 8.75 percent of the reorganized equity, in addition to warrants, according to the filing.