Dassault Unveils Roomiest Luxury Jet, Picks Rolls-Royce Engines
(Bloomberg) -- Dassault Aviation SA unveiled its largest, fastest and farthest-flying private jet in a bid to catch up with rivals, and picked Rolls-Royce Holdings Plc for the first time as its engine supplier.
The Falcon 10X will be ready for customers by the end of 2025 and the cabin will be the industry's largest, Dassault said Thursday. Rolls-Royce beat out Raytheon Technologies Corp.'s Pratt & Whitney, which makes the engines for Dassault's last three models. The new plane will be able to cover 7,500 nautical miles -- enough to fly nonstop from New York to Beijing.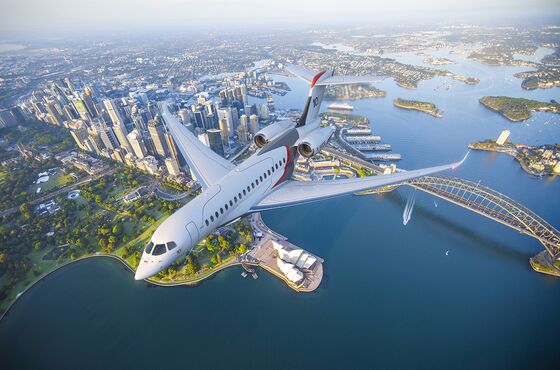 Dassault is relying on the Falcon 10X to compete at the high end of the private-jet market, which was the fastest-growing segment before the coronavirus pandemic and is expected to regain its luster in the coming years. Bombardier Inc. began deliveries of its Global 7500 in late 2018, while General Dynamics Corp.'s Gulfstream unit expects to start shipping its G700 late next year.
Customers pressed for an "ultra-long range Falcon, and this is going to be the case with the Falcon 10X," said Eric Trappier, chief executive officer of Paris-based Dassault. "But it's also comfort. When you're traveling for a long time, you need to be effective, you need to feel at home."
The cabin will have an interior height of 6 feet, 8 inches, the most among private jets, excluding luxury versions of jetliners made by Boeing Co. and Airbus SE. Like the Global 7500, the Falcon 10X can be configured with a bedroom and shower.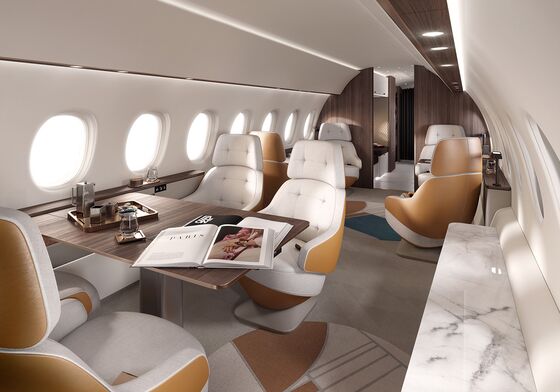 The new plane will use a version of Rolls-Royce's Pearl engine with more than 18,000 pounds of thrust. The Falcon 10X will have a top speed of Mach 0.925, just below the sound barrier, matching the Global 7500 and the G700.
Dassault, which is partially owned by Airbus and also makes military aircraft such as the Rafale and the Eurofighter Typhoon, said the Falcon 10X's wings will be made of carbon-fiber composites based on its fighter-jet designs. That will provide a smoother ride, the company said.
The massive cabin, though, is the main selling point, which Dassault touted as "your penthouse suite in the sky" and "French by design."