Danske Bank Says U.S. Is Now Investigating Laundering Case
(Bloomberg) -- Danske Bank A/S said the U.S. has started an investigation into a money laundering case involving Denmark's biggest bank that has already toppled its chief executive officer and triggered numerous other probes.
The development comes as criminal investigations are under way in Estonia and Denmark, and after Danske said that a large part of about $235 billion that flowed through a unit in the Baltic country between 2007 and 2015 may need to be treated as suspicious transactions. The bank has relieved CEO Thomas Borgen of his duties and reported several employees to the police in connection with the case.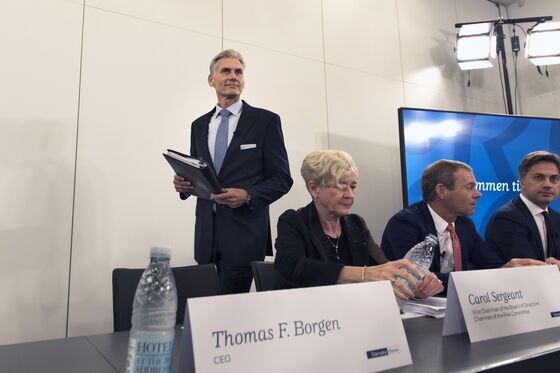 Danske said on Thursday it has "received requests for information from the U.S. Department of Justice in connection with a criminal investigation relating to the bank's Estonian branch conducted by the DOJ." The bank said it is cooperating with all the relevant authorities.
Danske Bank Whistleblower Asked to Testify at European Parliament
Andreas Hakansson, an analyst at Exane BNP Paribas, said it's "no surprise" that the U.S. is now looking into the case. "When you have this many suspicious transactions, you can assume some of it would be in violation of U.S. rules and have the DOJ investigate."
"The concern will now be how big a fine it will be as it's completely different if it's issued by a U.S. or European authority," he said. In Denmark, Business Minister Rasmus Jarlov has already said that Danske may face a fine as high as $630 million.
Stephen Kohn, a Washington, DC-based attorney for Danske whistle-blower Howard Wilkinson, said the bank should give its employees full permission to cooperate with authorities.
"Russian money laundering is a serious matter that should be fully investigated by every nation for which the funds may have entered," Kohn said in an email. "We urge Danske Bank to ensure that all current and former employees, including Mr. Wilkinson, are permitted to fully cooperate with all international law enforcement agencies."
Hermitage Capital CEO and co-founder Bill Browder, who is behind a number of criminal complaints against Danske for its alleged laundering breaches, is seeking to get even deeper U.S. involvement. Browder said on Thursday by phone that he's also filed a request with the Department of Treasury to investigate.
Acting Chief Financial Officer Morten Mosegaard said Danske hasn't yet set aside provisions for a potential fine.
"We don't really feel that we have any basis for taking a provision at this point in time," he said by phone on Thursday. "It's very early in the process, so that's not really appropriate. What we've done instead is we've said that we want to be very cautious on the capital distribution side."
Shares in the bank fell as much as 4.6 percent in Copenhagen, pushing it to the bottom of Bloomberg's index of European financial stocks.
Meanwhile, there's growing evidence that Danske represents just a small part of a European laundering problem, with cross-border transactions through Estonia alone reaching more than $1 trillion between 2008 and 2015. The Estonian central bank has made clear that cross-border transactions include non-resident and resident flows. It can't provide an estimate for non-resident flows. The cross-border data compares with Estonia's GDP in 2017 of 23 billion euros, or $26 billion.
Estonian Central Bank Says Laundering Case Demands Bank Caution
According to Browder, Danske isn't the only Nordic bank involved in laundering, according to an interview with Sweden's Dagens Industri.
Swedish FSA Sees Limited Money Laundering Risk at Swedish Banks
Swedbank AB, SEB AB and Nordea Bank Abp all put out statements on Wednesday underscoring their efforts to combat money laundering and noting that they hardly have any non-resident accounts. In September, Nordea together with DNB ASA of Norway sold a 60 percent stake in Baltic lender Luminor to Blackstone, significantly reducing their exposure to the region.
In a separate statement on Thursday, Danske said it is discontinuing its share buyback program following an order by the financial regulator in Denmark.
A program targeting as much as 10 billion kroner ($1.5 billion) in buybacks through February will be abandoned, after the bank purchased shares worth about 6.8 billion kroner.