Danske Says No Money Has Been Set Aside for a Laundering Fine
(Bloomberg) -- Danske Bank A/S says it hasn't put any money aside to cover potential fines, or other losses, linked to its alleged role in the laundering of billions of dollars over several years.
"We can never tell for sure, obviously, but what we can tell is that we've made the assessment and that we've concluded there is no basis for making any provisions," Morten Mosegaard, interim chief financial officer and chief of staff at Denmark's biggest bank, said in an interview.
The Copenhagen-based lender is the target of criminal investigations for laundering in Denmark and Estonia amid allegations that more than $9 billion in illicit funds from Russia, Azerbaijan and Moldova flowed through its office in Tallinn. Danske has earmarked about 1.5 billion kroner, or $230 million, as what it's calling a donation to society in an effort to address public indignation.
"We have been pretty precise in letting the market know that this is the full scope of gross income [from the Estonian unit] and then we're making the assessment at this point in time," Mosegaard said. "We can't comment on that until we get to the point where we can make a general disclosure."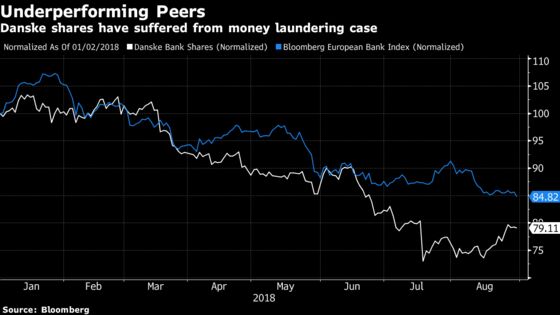 Danske is due to publish the findings of an internal probe into the laundering case next month, and says it is cooperating with the relevant authorities to get to the bottom of the case.
Analysts whom Bloomberg News contacted in July estimated on average that Danske may face fines equivalent to $670 million, especially if authorities in the U.K. and the U.S. take an interest in the case. The U.S. Treasury Department is "very closely" monitoring the matter, the Berlingske newspaper reported on Thursday.
Danske didn't make any provisions for a potential laundering fine in its second-quarter report and Mosegaard says "there is nothing that we should provision against. Otherwise we would have done it."
Read Mote: Danske 'Suffering' to Extend Past September Probe, ATP CEO Warns
The bank was ordered in May by the Danish Financial Supervisory Authority to add about 5 billion kroner to its regulatory capital to reflect "weaknesses" in its governance. The extra capital requirement is likely to stay in place at least for the immediate future, Mosegaard said.
"I don't expect them to go away in the very short term," he said. "When the risk is altered relative to the Estonian situation, then we will see whether it's appropriate to remove them. Given the case itself, it is clear enough that this will be something that we will have to work on for the coming period."
In September, the bank will let people know "what we think has happened and what we think about any potential donation," Mosegaard said.