Danske's Laundering Headache and Weak Profit Spark Selloff
(Bloomberg) -- Danske Bank A/S slumped the most in more than two years after investors were disappointed by its second-quarter results and as management set aside money linked to laundering crimes amid Danish government warnings that such funds will be confiscated.
Shares in the Copenhagen-based lender sank more than 11 percent at one point on Wednesday, the most since June 2016. The selloff pushed Danske to the bottom of the Bloomberg index of European financial stocks, which was down about 1 percent.
Aside from reporting profit that lagged behind even the lowest analyst estimate, Danske said its full-year earnings outlook was slightly gloomier than previously indicated.
Danske Plunges, More Consensus Downgrades Ahead, Analysts Say
"Overall we see this as a weaker than expected set of numbers," Goldman Sachs said in a client note. "The guidance excludes potential costs related to waiving income from suspicious transactions in Estonia," the Danske office from where the laundering is alleged to have taken place.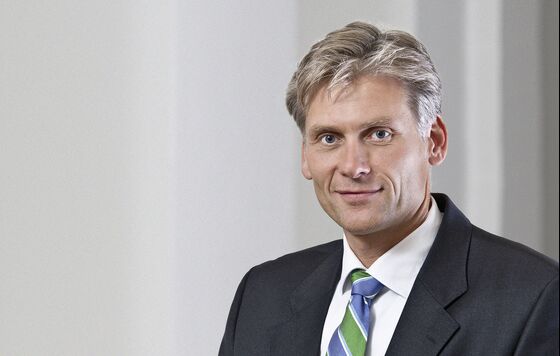 Denmark's biggest bank said it may pay back about 1.5 billion kroner, or about $230 million, from its profit as it tries to deal with allegations it helped launder billions in illicit funds over several years. That's considerably less than the average analyst estimate compiled by Bloomberg for a potential fine that may reach $670 million.
Danske is treating the money as a kind of donation to society as it tries to cope with the fallout of public indignation over the growing laundering scandal. Meanwhile, Chief Executive Officer Thomas Borgen said on Wednesday he will continue to run the bank.
It's "important that I, with the bank's backing, take charge of it to take it through this time," Borgen said in a phone interview. "But I have also said this: In case that it's better for me to step down, then I will step down, but it's important now that I take the lead, with the board's backing."
Danske said on Wednesday that the amount it's setting aside in connection with laundering allegations corresponds to estimated gross income from 2007 to 2015 from the non-resident accounts in Estonia that are at the center of the laundering scandal. Borgen said he has "no insight" into the size of any potential fine, and that the bank therefore was unable to estimate how much to set aside in provisions.
The bank's management still expects to publish the conclusions of an internal investigation into the laundering scandal by September.
Danske said it intends to make profits from the Estonian business linked to laundering "available for efforts that support the interest of the societies in which we operate, such as combating international financial crime."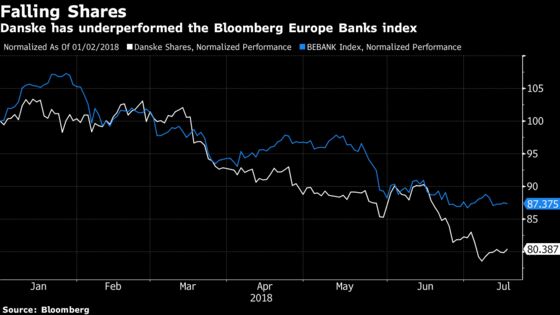 Though Danske missed analyst estimates, management was able to write back 377 million kroner in bad loans. The bank said it now expects net profit in 2018 to be at the lower end of a previously announced target range of 18 billion kroner to 20 billion kroner.
Profit at the bank suffered after trading income fell 35 percent from a year earlier. Jyske Bank referred to the result as "disappointing and miserable," and noted that clients need to keep in mind that Danske may still face fines from the U.K. and the U.S. related to the laundering allegations.
In the report, Borgen said "developments in the financial markets had an adverse effect as the global uncertainty and investor reticence contributed in particular to a weaker development in net trading income."
Here's an overview of Danske's 2Q numbers
Here's what analysts are saying about Danske's earnings
For the last 1 1/2 years, a steady stream of reports by the Berlingske newspaper has placed Danske at the center of a massive laundering scandal in Europe. Well over $8 billion in dirty money was allegedly funneled from Russia, Moldova and Azerbaijan through the bank's Estonian office in the years 2007 to 2015.
Danske this month became the subject of a criminal complaint by Bill Browder, co-founder and CEO of Hermitage Capital. Browder links some of the laundered funds to the death of his lawyer, Sergei Magnitsky, who ended his days in a Moscow prison in 2009 after uncovering the scheme. Browder filed his complaint with Denmark's State Prosecutor for Serious Economic and International Crime, as well as the Danish Business Ministry.
The Danish state prosecutor says it's treating the case "particularly seriously" and is working with "several countries" to get to the bottom of the allegations against Danske. The Danish government and central bank have said the scandal risks damaging the entire country's reputation. Business Minister Rasmus Jarlov says the Financial Supervisory Authority is investigating new evidence as it becomes available.
The bank needs to "work hard to rebuild its reputation," Per Hansen, an investment economist at Nordnet A/S, said by phone. "The bank has been saying it's sorry, but today it's also quantifying in a cash amount just how sorry it is." Even so, "it's not over with today's gesture. It will take time."
Danske said on Wednesday it appointed a new chief compliance officer, Philippe Vollot, who is due to start no later than Dec. 1. He comes with "significant international experience -– not least within the combating of financial crime and money laundering," Borgen said. Vollot had previously worked at Deutsche Bank AG, where he was global head of anti-financial crime & group anti-money laundering officer.
Danske Bank Says Its Compliance Chief Is Stepping Down