Danske's Crisis and the Populist Fallout It Risks Igniting
(Bloomberg) -- The money laundering scandal engulfing Danske Bank A/S has Denmark's political establishment on edge.
After living through the crisis of 2008, and the populist wave that followed, some of Denmark's most prominent political figures say it's now imperative that voters aren't left with the same sense of indignation that they felt roughly a decade ago.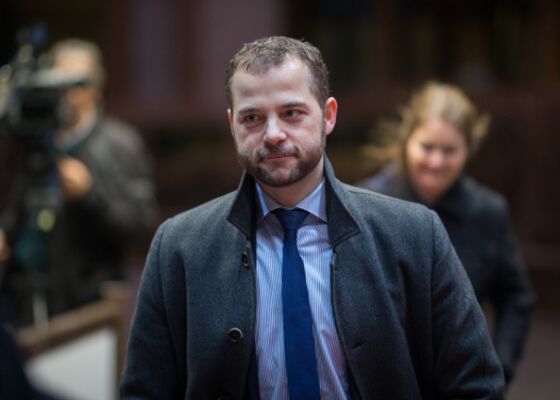 Morten Ostergaard, the leader of the Social Liberal Party of which EU Competition Commissioner Margrethe Vestager is a member, says voters need to know that Danske and its management will have their feet held to the fire.
"When a pillar of society like our biggest bank gets involved in one of the biggest money laundering scandals on the planet, it once again leaves people with a sense of injustice," he said in an interview at the Danish parliament in Copenhagen.
"Danske Bank must answer its legal responsibilities," he said. "We really have to take this seriously. This is Danske Bank, and its brand represents all of Denmark."
Ostergaard, a former economy minister and deputy prime minister under the previous government, says nothing less than Denmark's welfare state is at risk if the Danske case ends up undermining voter confidence in the country's institutions.
It's a legitimate concern. After the global financial crisis of 2008, voters started losing faith in mainstream political groups and turned increasingly to populist movements, with elections in the U.S. and the U.K. standing out as seminal moments. Much of that shift can be traced back to people's disillusionment with how the last crisis was handled.
Danske has admitted that much of about $235 billion that flowed through a tiny Estonian unit may have been laundered, and criminal investigations are under way. The EU says the Danske laundromat is currently the bloc's biggest scandal and S&P Global Ratings has warned that the sheer scale of the case has put pressure on Denmark's AAA sovereign rating.
Meanwhile, ordinary Danes and many shareholders are wondering why Danske's former chief executive officer, Thomas Borgen, will be leaving with 12 months' pay. The bank is continuing to buy back shares as part of its investor reward program and hasn't yet set aside any funds to pay potential fines. (Management has identified about $230 million in profits from laundering that it plans to "donate" to society.)
There are signs that Danes are angry. A survey published this week shows that Danske suffered a slump in client satisfaction that was more than five times worse than the average for the industry, with the bank performing badly in areas such as reliability and social responsibility. Many Danske investors have soured on the bank, and its market value is down by almost a third this year.
Business Minister Rasmus Jarlov told Bloomberg that Danske may face a fine as high as $630 million in Denmark alone, marking a record for the country. That excludes potential regulatory penalties and fines in other jurisdictions. Morgan Stanley estimates that Danske could absorb potential penalties as high as $3 billion and still meet its capital requirements.
In Luxembourg on Tuesday, Jarlov told his EU colleagues that "the public in Denmark as well as the parliament and the government are very angry about what has happened in Estonia, in Danske Bank." He underscored the need to "learn from what's happened" and to "hold the bank responsible."
Ostergaard says Denmark needs to work with other EU countries to get to the bottom of the Danske scandal. That includes finally becoming a member of the European banking union. Finance Minister Kristian Jensen said last week the Danske example makes the case for joining the union "even stronger." Jarlov says Denmark is "ready to go as far as needed and we're also ready to consider conferring some money laundering tasks to a union body."
At their meeting on Tuesday, EU finance ministers agreed on new regulations designed to crack down on the flows of illicit funds through the bloc. The steps approved include allowing a broader definition of cash to enable better controls.
"Our regulator will never be able to match the biggest Danish banks on its own," Ostergaard said. "I can't see that this can lead anywhere other than to a deeper international cooperation."