Danske Names Interim CEO as Borgen Is 'Relieved of His Duties'
(Bloomberg) -- Danske Bank A/S has removed its chief executive officer with immediate effect after his role in one of Europe's worst money laundering scandals left a number of shareholders indignant at his continued presence.
Thomas Borgen was stripped of his CEO title on Monday, after the board appointed insider Jesper Nielsen to take over the job until a permanent replacement is found. Borgen already announced his resignation last month, but had intended to stay on until a long-term successor was named.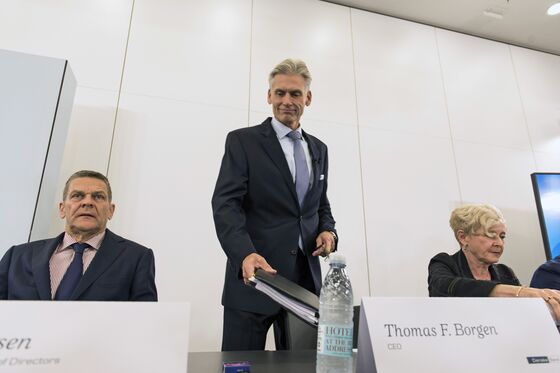 The European Union is trying to come to grips with the stunning string of revelations surrounding the dirty money saga. Danske's admission that a large part of about 200 billion euros, or $235 billion, that flowed through a tiny Estonian unit was probably laundered has sent shock waves through Denmark's parliament, with criminal investigations now under way. The scandal has also triggered a European investigation into Danske's local regulators.
The decision to give the interim CEO job to Nielsen, who's been with Danske since 1996, most recently as its head of Danish banking, shows it was a matter of "urgency" for the board to remove Borgen from the bank, according to Per Hansen, an investment economist at Nordnet in Copenhagen.
"Danske Bank probably decided that it was important to start the post-Borgen era as quickly as possible," he said.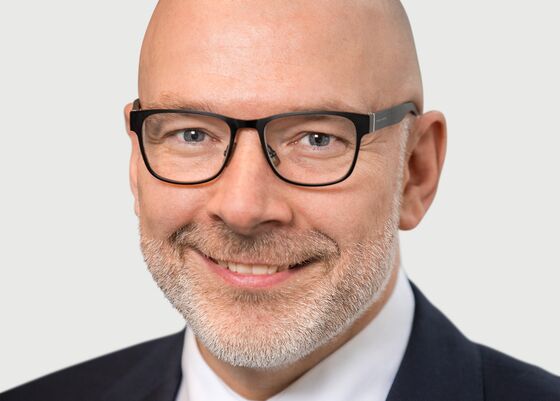 Shares in Danske traded about 1 percent higher in Copenhagen on Monday, while Bloomberg's index for European banks was little changed.
Borgen, 54, announced his resignation on Sept. 19, the same day Danske published a long-awaited report on the scale of its suspicious dealings in Estonia. The Danish Shareholders' Association, the country's biggest investor group, was among those to voice anger at the board's initial decision to keep Borgen on, arguing he needed to be shown the door immediately.
Borgen Is Leaving Danske With a 1-Year Severance Package
Borgen said on Monday that he and the board agreed it was "best for all parties that the person who leads management is also around to complete the job, and seeing as I've resigned, that person is not me," according to an emailed comment.
Nielsen said he considered his interim post "mostly a formality" and that he's "looking forward to a permanent solution being found."
Nielsen's Career at Danske
1996: Joined Danske (then BG Bank) after graduating from the University of Copenhagen
2007: Senior vice president for business development and strategy
2010: Deputy CEO of Danske's Irish unit
2016: Joins Danske's executive board as head of personal banking
2018: Head of Danish banking
2018: Interim group CEO
The Danish bank is one of several big lenders across Europe to have been tainted by money laundering scandals. Deutsche Bank AG was fined well over $600 million last year for its misdeeds, while ING Groep NV received a $900 million penalty for similar failures.
Nielsen, 49, will start immediately as the new Danske CEO, the Copenhagen-based bank said. He's not a candidate for the permanent position, Danske said. Chairman Ole Andersen said the task of finding a long-term replacement was "progressing according to plan."
Changing the bank's CEO is just one of many hurdles facing the board. Andersen, 62, has hinted that he himself may need to go before too long because of the scandal. Danske is facing a potential fine as high as $630 million in Denmark alone. That's in addition to regulatory penalties and fines that the bank may be subject to in other jurisdictions. It also remains unclear whether Danske executives may be facing separate lawsuits.
Danske Bank's Danish Customer Satisfaction Slumps in EPSI Survey
Investors have bolted as news of Danske's involvement in money laundering has emerged. The bank's market value has plunged by about a third this year, making it the worst performing European bank in the Bloomberg index, after Deutsche Bank. Danske's board has said it hopes a new CEO will help restore confidence in the bank's management.
It's worth noting that the money laundering scandal isn't the worst crisis ever to hit Danske Bank. In the 1920s, its rapid expansion ended in near-collapse with the Danish state coming to the rescue. The CEO back then, Emil Glueckstadt, ended up in jail for downplaying the extent of the bank's woes. He died in custody pending trial, and much of his estate was used to cover the court expenses relating to the scandal.