Danske May Face Smaller Fine After 'Draconian' Management Purge
(Bloomberg) -- Danske Bank A/S revealed this week that it's so far built about $2.7 billion in reserves to absorb potential fines for its role in one of Europe's worst ever money laundering scandals.
But the head of the Danish financial regulator, Jesper Berg, says there are a couple of extenuating circumstances that might limit the size of any penalty Danske is facing. He cited the bank's cooperation with the authorities, as well as "draconian" changes in management.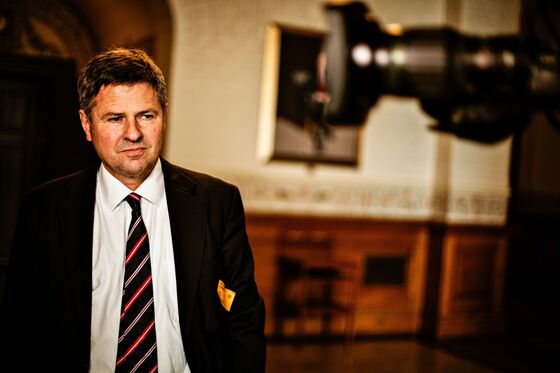 Investors have known since October that Danske is being investigated by the U.S. Justice Department, which has the potential to issue the heaviest fines. The Danish Financial Supervisory Authority, under Berg, has ordered Danske to hold about $1.5 billion in extra capital to prepare for the fallout of the case.
Since acknowledging that much of about $230 billion that flowed through an Estonian branch between 2007 and 2015 was probably suspicious, Danske has removed its chief executive officer. The bank's chairman was recently ousted by its biggest shareholder. That comes on top of multiple departures by senior managers during the year, and Danske has itself reported several employees in Estonia to the police.
"The management, supervisory board measures that have been taken at Danske have been draconian," Berg said in an interview in Copenhagen. "I don't think any other large bank in the western world has taken such steps, in terms of management consequences. It's way beyond what you see anywhere else."
That is "something that people take into consideration," when deciding on an appropriate fine, he said.
Shares in Danske rose as much as 6 percent on Wednesday after Berg's comments were published.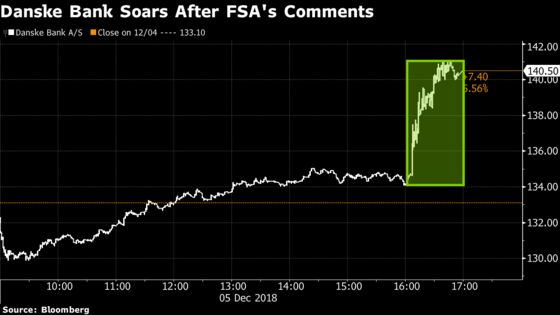 Berg said that some extreme market estimates for the fines Danske may be facing are probably inflated. (Some analysts have suggested the figure may be as high as $8 billion.) Authorities generally don't set penalties so high that they put a bank's solvency at risk, he said. What's more, actions taken in one jurisdiction are likely to be taken into consideration by the authorities elsewhere, he said.
"History suggests that you will try not to endanger the life of a bank," Berg said.
Danske has shelved its share buyback program, though its dividend policy is unchanged. When it comes to questions like shareholder rewards and employee bonuses, Berg said he's sure Danske is also making the appropriate "political judgments in terms of public perceptions, which is important."
It's also worth noting that Danske's market value has slumped about $16 billion this year, as investors have dumped the stock on the back of the money laundering scandal.
Changes to Danske's Board
A.P. Moller Holding A/S, which owns about a fifth of Danske's shares, has proposed that Karsten Dybvad, the chief executive officer of the Confederation of Danish Industry, replace Ole Andersen as chairman. The decision will be put to a vote at an extraordinary shareholder meeting on Dec. 7
Moller also proposed that its chief investment officer, Jan Thorsgaard Nielsen, replace the chairman of the board's audit committee, Jorn P. Jensen, who like Andersen will step down at the EGM
Two other board members have said they won't seek re-election in March
The remaining four independent board members were elected in 2016 or later; the laundering occurred from 2007 to 2015
The board's first task will be to find a new CEO; Jesper Nielsen, acting CEO since Thomas Borgen was removed for his role in the laundering scandal, hasn't ruled out accepting the job long term
Danske Bank's capital   
                                       September 2018            December 2017

Common equity Tier 1           DKK120.9 billion               DKK132.7 billion
CET1 ratio                               16.4%                            17.6%
Total capital                       DKK154.2 billion               DKK170.3 billion
Total capital ratio                     20.9%                            22.6%         

Source: Danske Bank