Danske Executive Bonuses at Stake as Bank Explores All Options
(Bloomberg) -- Danske Bank A/S is under pressure to quickly get rid of Chief Executive Officer Thomas Borgen as a growing number of shareholders voice dismay at his continued presence, given his role in one of Europe's worst money laundering scandals.
The 54-year-old resigned last week after acknowledging his bank may have helped launder much of about 200 billion euros, or $235 billion, that flowed through a tiny Estonian unit between 2007 and 2015. Borgen has said that he, as CEO, was responsible.
But the board has asked Borgen to stay on until a replacement is found, for which no date has been given. He is also set to receive 12 months' pay when he leaves.
At the Danish Shareholders' Association, the Danske board's decision is seen as both "strange" and "far from ideal."
"Bonuses should reflect a situation where management has done an extraordinarily good job," said Leonhardt Pihl, co-CEO of the association. "I don't think you can say that that happened here."
At MP Pension, a Danske shareholder with $20 billion in assets under management, director Jens Munch Holst says he "doesn't understand" why Borgen hasn't already been escorted out the door. "He needs to stop immediately -- anything else is impossible to understand and unsatisfactory," he said.
Danske won't say how much Borgen is set to get in his 2018 remuneration package. In 2017, he was paid 15.4 million kroner ($2.4 million). Roughly a quarter of that was in the form of variable pay, which may now be clawed back.
Replacing Borgen
The bank is very close to naming a new CEO, according to the finance section of newspaper Jyllands-Posten. Former Chief Financial Officer Jacob Aarup Andersen, who now runs Danske's wealth unit, is the main internal candidate. The newspaper says an announcement may be imminent, pending approval from the financial regulator.
Borgen was promoted to CEO at Denmark's biggest bank at the end of 2013, and was feted as a success for turning around a lender that for years had struggled to compete with its Swedish peers.
With Borgen at the helm, profits grew and shares in the bank soared about 130 percent through to a peak in May last year. But as news of the laundering scandal spread, the stock started to suffer. This year, Danske has lost a third of its market value, making it the worst performing European financial firm after Deutsche Bank AG.
Pihl says that, even taking Borgen's previous triumphs into account, "there's no place for bonuses here."
Henriette Fenger Ellekrog, the head of human resources at Danske, says management is now "looking into claw-back possibilities."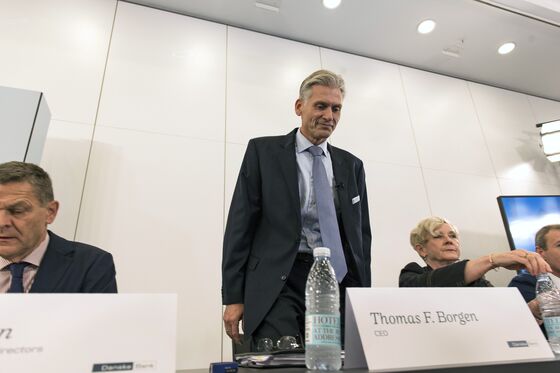 "We cannot comment on expected amount, numbers or individuals, but claw back will be investigated for all relevant employees in relevant markets and in all levels of the organization," she said.
It's worth noting that Borgen's bonus makes up a relatively small portion of his total compensation in large part because of European Union rules designed to curb variable pay (Danish rules impose even stricter limits). The thinking was that doing so would end the kind of incentives that drove managers to make short-term decisions just to inflate share prices.
The EU's bonus cap, in place since 2014, has been criticized by U.K. regulators precisely because it limits claw-back options.
Ellekrog said the bank's own remuneration policy doesn't restrict its options with regard to how much can be clawed back, but pointed out that the bank needs to comply with national legislation.
"All possibilities will be investigated and where deemed relevant, we will take proper action following these investigations," Ellekrog said.
Danske's internal report on its laundering scandal, published last week, exonerates Borgen of any acts that might warrant criminal prosecution. But the bank says that several other employees have been reported to the police. Criminal investigations into the laundering case are ongoing and the Danish government says Danske may face a $630 million fine.
Danske says it is continuing to investigate the matter after many questions were left unanswered. Pihl of the shareholders' association says his group is "not happy" with how the board has handled the case.
"We're kind of stuck in limbo, with questions arising faster than answers," he said. "It's very bad for Danske Bank."