Memo to Danske Staff: Don't Worry About Your Bonus
(Bloomberg) -- Danske Bank A/S may be facing billions of dollars in fines for its Estonian laundering scandal, but its employees don't need to worry about having their bonuses cut.
Jesper Nielsen, who's been running the bank on an interim basis since Thomas Borgen was relieved of his duties as chief executive in October, says there might be some bonus adjustments to reflect weaker markets, but not "a lot of change" beyond that.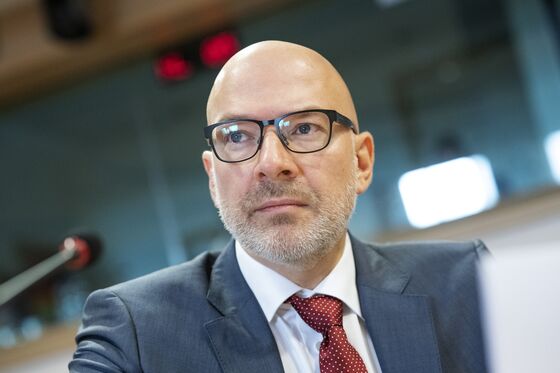 "Obviously, if you look at bonus pools in the markets area, they have suffered from the loss in trading income," he said in an interview in Copenhagen.
"If you look at the overall bonus levels for staff, they are obviously also impacted by the overall results of the bank, but are at the same level," he said. "And the bonus pools into 2019 for staff are at the same level as well."
It's worth noting that the shadow of the scandal has prompted some changes. Danske's 10-member executive board, including Nielsen, voluntarily waived 2018 cash bonuses to which they were entitled under a short-term incentive program. Borgen and two other former executives did the same.
Denmark's biggest bank is at the center of what may be one of the world's worst money laundering scandals. It's under criminal investigation by the U.S. Justice Department, with similar probes being conducted in Denmark, Estonia and France. Danske is suspected of allowing a tiny branch in Estonia to become a European hub for money launderers until as recently as 2015. The bank has itself admitted that much of about $230 billion that flowed through the unit was probably illicit in origin.
The case has drawn condemnation from politicians, and prompted thousands of Danske clients to turn their backs on the bank. For its roughly 20,000 employees, the effect has been demoralizing and Nielsen says management is working to make sure low morale doesn't become an issue in itself.
Staff members are "challenged over dinner parties and cocktail parties, in terms of standing up for the bank," Nielsen said. "This is a tough time for all staff in Danske Bank."
The narrative inside the bank in Copenhagen is that the misdeeds that took place at a branch in Estonia shouldn't drag down the whole firm. The only former bankers to have been apprehended so far were all based in Estonia, and Danske has taken drastic steps to purge its upper ranks of anyone tainted by the case.
The bank dominates Denmark's financial infrastructure, with total assets equivalent to 1 1/2 times the country's gross domestic product. If Denmark is to have a stable financial industry, Danske can't be allowed to stumble.
Nielsen says that now, everybody at the bank is "doing a fantastic job."
"But obviously it has some sort of influence on the staff's perception of the bank, when you're challenged on your integrity," he said.
The concern is that the Estonian scandal risks leading to a brain drain. For now, Nielsen says he's seen no evidence of that. But the bank is aware of the risks and is monitoring the situation.
"We're very observant on maintaining a solid mood in the company, making sure these numbers don't take off in either certain departments or the bank overall," he said.
Severance payments at Danske rose 50 percent last year, while total expenses to cover salaries rose 5 percent to 12.5 billion kroner, or about $1.9 billion.
Meanwhile, Danske's former CEO Borgen will be paid 15 million kroner through September this year, after getting 12.7 million kroner in 2018. The 54-year-old waived his right to 7.2 million kroner in incentive pay, "in view of the exceptional circumstances," the bank said.