Danske Suddenly Doesn't Look So Bad After $18 Billion Fall
(Bloomberg) -- Since investors started panicking over its money laundering scandal about a year ago, Danske Bank A/S's share price has been cut in half, representing $18 billion in lost market value.
According to Ronit Ghose, global head of bank research at Citigroup, the severe selloff fails to acknowledge that Danske is a more profitable bank than many of its peers.
"Yes, they've got reputational issues, and, yes, they've got management challenges, and we're looking for a new story, but when you look at Danske, this is not a franchise that is broken," Ghose said in an interview.
Shares in Danske traded almost 3 percent higher after the market opened on Monday, putting it at the very top of the Bloomberg index of European financial stocks.
Denmark's biggest bank said last week that the Securities and Exchange Commission was among the long list of authorities investigating its role in what may well be one of the world's worst ever money laundering scandals. Danske has admitted that much of about $230 billion that flowed through a tiny unit in Estonia was probably illicit, amid allegations it helped create a central causeway in Europe for channeling dirty Russian funds into the West until as recently as 2015.
Danske "has challenges, absolutely," Ghose said. "But there are other banks that I would consider to be a broken franchise or a much more questionable franchise." Markets seemed to underline his point last week as Danske was able to sell debt intended to create a buffer for so-called bail-ins at a lower rate than some of Europe's biggest lenders, including Deutsche Bank AG.
Plotting the Cost of Issuance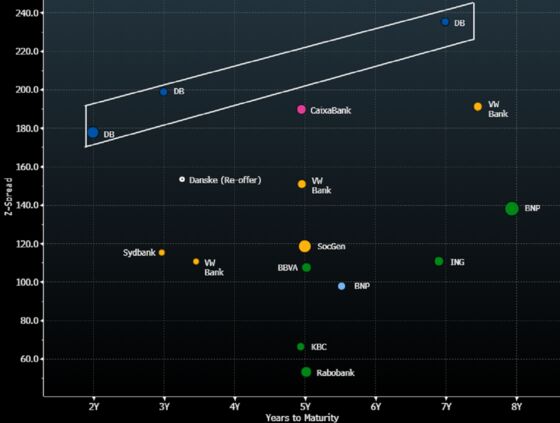 Ghose says part of the reason Danske's fall has been so precipitous is because the bank had seemed so unassailable. Now, it looks more like any other lender.
"It was seen as a high-quality bank, a safe bank. If another bank -- a riskier or racier bank -- came out and said we're being investigated, people would say, Yeah, we kind of expected that'," Ghose said. "There were a lot of other banks that were already in the gutter. Danske was up on this pedestal. It had a longer way to fall."
Last week showed that Danske probably isn't the only bank to have been involved in money laundering in the Baltic region. Swedbank AB, the biggest lender across Estonia, Latvia and Lithuania, lost roughly a fifth of its market value over two days as local media reported that it allegedly also handled billions of dollars in suspicious transactions. The bank, which had denied any involvement until the news broke, is now being investigated by regulators in Sweden and Estonia.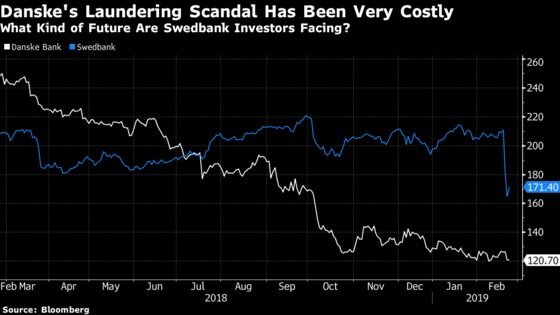 Ghose says there's no way of knowing whether Swedbank's scandal will become as big as Danske's. "But events of 2018 taught investors not to rush in and buy on the dips," he said. The news flow around money laundering allegations "is like un-peeling an onion -- it keeps going, layer after layer."
Citigroup is advising clients to buy Danske, but to be a bit more cautious with Swedbank, reflected in its neutral rating.
Since the laundering crisis hit, Danske has taken drastic steps to regain investor trust. It purged its upper ranks, including getting rid of the chief executive officer and chairman. Management has added hundreds of people to its compliance department and Danske recently announced it is quitting the Baltic region and Russia in response to the scandal. The Danish regulator has suggested that the "draconian" measures taken by the bank might result in greater leniency from prosecutors investigating its case.
"A stock that was halved last year theoretically has a lot of upside," Ghose said.
The big unknown remains the size of the fine Danske might be facing. Estimates among analysts range from below $1 billion to above $8 billion. At Bloomberg Intelligence, analyst Philip Richards says he's expecting penalties in the range of $2 billion to $2.5 billion, though he notes that the final amount could in fact be "multiples of that."
"What investors are looking for, and this is outside management's control, is a quantification," Ghose said. "It's hard to quantify what the penalties are going to be."
Some Danish institutional investors are acting on an assumption that Danske is unlikely to fall any further, given that its lost market value already far exceeds even the bleakest estimate for potential fines. ATP and PFA, Denmark's two biggest pension funds, both raised their stakes last year.
"Danske became during 2018 -- and still continues to some extent as -- a mono-factor stock," Ghose said. But, "They have leading market positions in Denmark, they still have growth in Sweden and Norway."