Danske Bank Profit Slumps After Money-Laundering Scandal 
Danske Bank A/S expects its profits to plunge this year as Denmark's biggest lender continues to grapple with the consequences of its money-laundering scandal.
Net profit for 2020 will be between 8 billion kroner ($1.18 billion) and 10 billion kroner, compared with 15.1 billion kroner in 2019, the Copenhagen-based bank said on Wednesday. Danske's shares fell as much as 3.5%.
Chief Executive Officer Chris Vogelzang said it's still too early to estimate how large a penalty Danske may be facing for suspicious transactions at the heart of a vast Estonian laundering case. He also said the bank is continuing to push through cuts across the organization as it adapts to leaner times.
Vogelzang pointed to "low interest rates, margin pressure, higher impairments and increased costs due mainly to investments in compliance and AML-related activities," in Wednesday's statement. All in all, these factors "had a negative effect on the result," he said. "A number of extraordinary items also had an impact, positive as well as negative, on the results, but all in all, our financial performance remains under pressure."
What Bloomberg Intelligence Says:
Danske's reiteration of its 2023 goals (9-10% ROE, low-50% cost-income ratio) and strengthened capital position (17.1% CET1) offsets fine risk and suggests to us that the bank is finally on the road to recovery. Yet new cautious 2020 guidance of lower net interest income, declining fees, rising impairments (vs. consensus' 4% drop) and a 2-5% cost hike means earnings remain under intense pressure. Click here to read more.

-- Philip Richards, BI banking analyst
Investors are waiting to learn how much Danske might be facing in fines as investigators across Europe and in the U.S. look into allegations of money laundering. Danske failed to properly screen about $220 billion in non-resident funds that flowed through its Estonian operations, and the bank has admitted that many of those transactions were suspicious.
Click here for details of Danske's 4Q results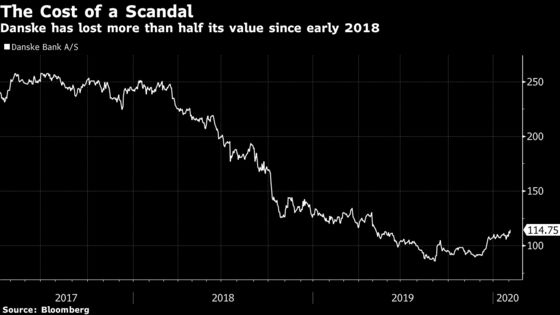 The scandal has battered Danske's reputation and its business. The bank discontinued share buybacks and has forecast a return on equity for 2020 of 5-6%, down more than half from a five-year high.
Vogelzang plans to spend as much as 2 billion kroner this year on investments he says are critical to improving profitability. He's targeting an ROE target of 9-10% by 2023.
Because of the laundering affair, banks in Denmark now face tougher regulation and higher compliance costs. Danske acknowledged late last year it had to impose a hiring freeze to adapt to the tougher environment, and also resorted to job cuts.
Danske reported a 10% increase in expenses, amid higher costs related to the Estonian case, improving compliance procedures and compensation to retail investment clients whom it overcharged.
At the same time, Danske has lived with negative interest rates longer than any other big European bank. Denmark first introduced the regime in 2012 to defend the krone's peg to the euro, and the financial regulator recently warned that banks have yet to feel the full force of the policy.
On Wednesday, Vogelzang said the bank has no plans to follow its competitors in Denmark and pass negative rates on to average retail depositors.