Danske's Brutal Stock Selloff May Have Gone Much Too Far
(Bloomberg) -- A punishing selloff triggered by a money laundering scandal may have left Danske Bank A/S badly undervalued, according to analysts covering the stock.
That means that shares in Denmark's biggest financial group could be poised to soar more than 50 percent in the coming year, according to the average estimate of 24 analysts tracked by Bloomberg. The gap between where analysts expect Danske to be trading in 12 months and the lender's current price is now the biggest among banks in the Stoxx Europe 600.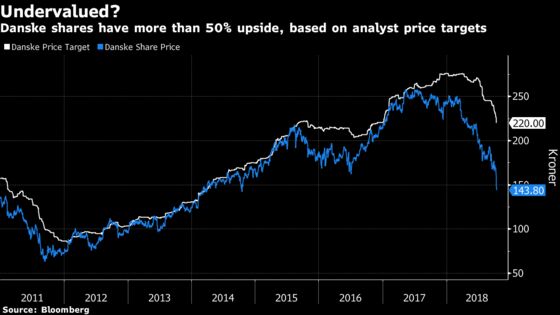 The potential for a significant rebound in Danske's shares takes into account a wave of analyst downgrades, with price estimates falling an average of about 20 percent this year.
Denmark's biggest bank has achieved near-pariah status as the laundering scandal frightens off bond and equity investors and draws denunciations from politicians. The bank has admitted that about $235 billion that flowed through a tiny unit in Estonia may need to be treated as suspicious transactions, with numerous employees reported to the police and Chief Executive Officer Thomas Borgen relieved of his duties.
The U.S. Department of Justice is now investigating the case, joining probes in Denmark, Estonia, Switzerland and the U.K., and the development is fueling concerns that Danske may face hefty fines.
Sparinvest, a Danish fund manager with $6.3 billion of assets, says it's seeking a dialogue with Danske but that it will hold on to its roughly 2.9 million shares in the bank for now.
"We don't think that our investors are best served with a sudden reaction to this problem," Jens Moestrup Rasmussen, deputy chief investment officer, said in a statement emailed on Oct. 1. When contacted by phone on Tuesday, Sparinvest said that view still applies. "It's important to see what steps the company is taking to address the situation."
Rasmussen said Sparinvest's "current holding is based on the information we have available at the moment and we may change our view on Danske Bank if new information emerges, or if the improvements that have been promised don't materialize."
According to Jyske Bank analyst Simon Madsen, Danske may need to pay penalties of about 12 billion kroner, or $1.8 billion, though that figure could rise as high as about 50 billion kroner. Meanwhile, the lender's market value has plunged almost 100 billion kroner this year, or roughly $15 billion.
Danske Profit Signals Fine Under $1 Billion, Peers Exposed Too
"Investors are adding a significant risk premium to Danske Bank at the moment because of the uncertainty there is regarding the size of potential fines," Madsen said by phone.
"We think that it can take more than a year before the size of potential fines becomes known, so the uncertainty can continue for a longer period," he said. "Having said that, a less intense negative news-flow on Danske Bank could spur buying interest from some investors seeing long-term value at the current levels."
The last time analysts expected a 50 percent increase was in 2011. The stock subsequently rose 36 percent.
To be sure, the situation in 2011 was different. Investors weren't aware of a potential money laundering scandal, but Danske faced numerous other problems. These included the tail-end of housing crises in Denmark and Ireland, where the bank also had operations. Then, like now, the bank ended up changing its chief executive officer as Peter Straarup announced his retirement.
Read more about Danske Bank's situation in late 2011
Danske has lost eight of its buy recommendations in the past month. But it's worth noting that there are still 16 analysts covering the stock who are advising investors to purchase shares.