Danske Bank Hits Political Agenda Ahead of Danish Vote
(Bloomberg) -- Danske Bank A/S's laundering scandal and a massive dividend-tax fraud now look set to influence elections due to be held in Denmark next year.
The country's politicians are promising major changes to how the financial industry will be policed. The goal is to appease voters stunned by the sheer scale of allegations against their country's biggest bank, and by revelations that state coffers were systematically robbed by bankers who found a loophole in tax laws.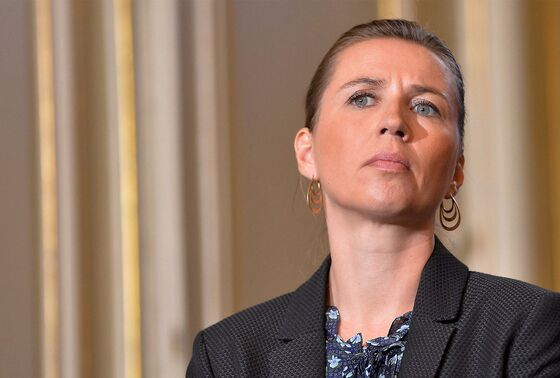 Mette Frederiksen, the leader of the opposition Social Democrats who most polls indicate will become Denmark's next prime minister, says financial crime now dominates the list of Danish voter concerns, according to state broadcaster DR. The current prime minister, Lars Lokke Rasmussen, has characterized the Danske Bank scandal as a stain on the whole country's reputation.
Frederiksen says politicians in Denmark need to respond to voter outrage, or risk undermining confidence in the institutions that underpin a well-functioning society. The "fear" is that Danes will "lose confidence" in those institutions, she told DR.
The Populist Sting
The financial crisis of 2008 and its ruinous economic fallout are widely thought to have laid the foundations for the populist backlash that has since gripped many parts of the globe. Morten Oestergaard, the head of Denmark's opposition Social Liberals, says the risk in his country is that voters will feel the same sort of disillusionment that has driven populist movements elsewhere unless politicians act decisively.
Frederiksen wants the financial regulator to focus on fighting white-collar crime. The task of tracking standard regulatory matters like capital adequacy should be handed over to the central bank, she told DR. Frederiksen's plan follows a proposal by Business Minister Rasmus Jarlov to revamp the financial regulator to give it more powers. He's already shepherded a bill through parliament that, among other things, raises fines for money laundering by 700 percent.
A country that has prided itself on equality, fairness and some of the world's lowest corruption levels is now trying to grasp allegations of rampant financial crime in some of its most important institutions. Danske has admitted that a large part of roughly $230 billion that flowed through a tiny Estonian unit may have been suspicious in origin. Several employees have been reported to the police and criminal investigations are under way in multiple jurisdictions, including the U.S. The bank, whose shares are down almost 50 percent this year, says it's cooperating with the relevant authorities.