Danske Board Is Slammed After Hiking Its Pay Amid Staff Cuts
The Danish bankers' union has lambasted Danske Bank A/S after its supervisory board sought to raise its own pay shortly before the lender announced hundreds of job cuts.
Denmark's biggest bank, which is dealing with a spike in compliance costs amid investigations into money laundering, said on Thursday it's getting rid of 400 positions across the organization. The news comes less than a week after Danske's board revealed it wants to ratchet up its pay by at least 23%, mainly to reflect the extra work needed to handle the fallout of Danske's dirty money scandal.
It's "a paradox" that Danske is cutting jobs "almost at the same time as the board wants to grant itself significant pay increases," Kent Petersen, chairman of the financial services union in Denmark, said in a statement on Thursday.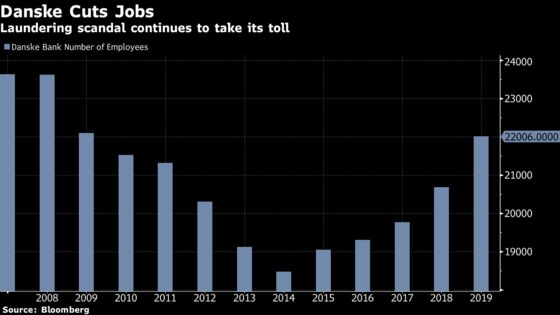 Danske admitted in late 2018 that it failed to properly screen about 200 billion euros ($219 billion) in non-resident flows at its Estonian operations, and said that much of that figure was suspicious. Since then, the bank's compliance costs have soared, and Danske has warned investors that profits this year will be much lower than in 2019.
Karsten Breum, Danske's head of human resources, said the bank is "taking a number of initiatives to adjust and simplify parts of our organization." Cutting jobs is "not easy," but "a necessary part of our efforts to reduce costs in order to ensure that we remain competitive."
Danske has found other jobs within the organization for 110 of the 400 people. The bank also said that 60 people have agreed to leave voluntarily while the remaining 230 have been laid off. Danske is getting rid of about 120 people in Denmark, 60 in Finland and 44 in Lithuania. In Sweden and Norway, the figure is "less than ten" in each country, Danske said.
Anders Svennesen and Jesper Langmack, investment directors at Danske's Danica unit, are among those leaving the bank, FinansWatch reported, citing an internal memo.
Since the money laundering scandal erupted, a number of Danske's top executives have had preliminary criminal charges brought against them, including the former chief executive, and Danske is bracing for hefty fines. Its share price has slumped by about half since the beginning of 2018.
On Feb. 21, Danske said it plans to add two new members to its board: Martin Blessing, a 56-year-old German, and Raija-Leena Hankonen, a 59-year-old Finn. It also said that its board members face "increasing requirements and expectations from regulators and other stakeholders" and will have to spend more time "both during and in between meetings," in an effort to explain the pay rise.