Damaged Australian Dollar May Sink to 9-Year Low
(Bloomberg) -- Australia's dollar may drop to a nine-year low of 67 U.S. cents as the central bank is set to become even more dovish and lean more toward cutting interest rates, according to money manager Hexavest Inc.
The Montreal-based unit of Eaton Vance Corp. is underweight the currency, saying poor consumer confidence and a weak housing market mean the Reserve Bank of Australia will be left behind by peers such as the Federal Reserve which is set to hike three or four times in 2019.
The Aussie has already tumbled about 9 percent this year due to record-low interest rates, a sell-off in risk assets, and concern a trade war with the U.S. will crimp growth in China, Australia's major trading partner.
A lot of damage has already been done to the Aussie, Vincent Delisle, co-chief investment officer at Hexavest, which oversees the equivalent of $14.5 billion, said in an interview in Sydney. A number of other major central banks are trying to catch up with the Fed, "if the RBA's not playing that same game, bad news near term is you get a weaker currency," he said.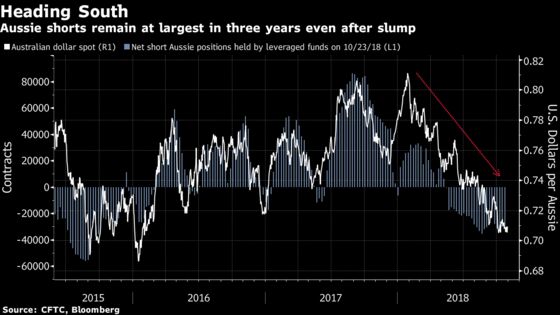 Leveraged funds are already positioning themselves for further declines in the Aussie. They held a net short position of 31,642 contracts in the week ended Oct. 23, after holding net longs of 19,877 at the start of May, data from the Commodity Futures Trading Commission show.
Renewed concern about China saw Australia's dollar drop to 70.21 cents on Oct. 26, the weakest since February 2016. The currency hasn't traded at 67 cents since March 2009. It fell as low as 70.72 cents on Wednesday after a weaker than forecast September quarter inflation print and as China's official manufacturing purchasing managers index came in lower than projected.
Read More: Australia's Weak Core Inflation Keeps Central Bank on Sidelines
The RBA is predicted to leave its cash rate target at 1.5 percent when it meets Nov. 6, according to all 23 economists surveyed by Bloomberg. The market is currently pricing in the RBA staying on hold until at least mid-2019, with around a 50 percent chance of a hike by the end of that year, according to data compiled by Bloomberg based on overnight swap rates.
The fact the RBA is going to stand pat, "and probably talk a more dovish scenario, will make a difference relative to other markets," Delisle said. That "is going to weigh down on the Australian dollar," he said.