Dalio, Summers Still See Risk U.S. Overheats After Fed Shift
Former Treasury Secretary Lawrence Summers and billionaire investor Ray Dalio said the U.S. is headed for a period of overheating and inflation that could threaten the economic recovery, even as the Federal Reserve signaled it would step in before that happened.
"It's easy to say that the Fed should tighten, and I think that they should," said Dalio, the founder of Bridgewater Associates, the world's biggest hedge fund. "But I think you'll see a very sensitive market, and a very sensitive economy because the duration of assets has gone very, very long. Just the slightest touching on those brakes has the effect of hurting markets because of where they're priced, and also passing through to the economy."
Dalio spoke in a conversation with Summers at the Qatar Economic Forum Monday.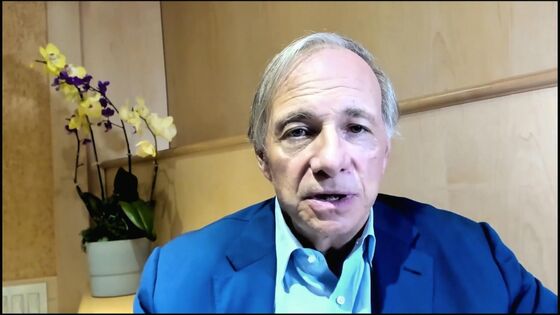 Fed officials surprised markets last week by accelerating their timeline for potential interest-rate increases. They also raised their inflation expectations for the next three years and have started to discuss when and how to pare back from their $120 billion in monthly asset purchases. The Dow Jones Industrial Average fell 3.5% last week, the biggest drop since October.
"I welcome the Fed's limited efforts to mark its views toward reality and a growing awareness that this overheating is likely to necessitate a monetary policy response," Summers said Monday. "People should not just modify their forecasts but should think about what their errors of thinking were that led them to be so far off in their forecasts."
Summers previously said he sees the Fed in a "different place" on inflation than before -- that it now acknowledges the threat of more persistent price growth. Policy makers raised their estimate for core inflation this year to 3% at last week's meeting, up from 2.2% in March.
"Much of the consensus of professional forecasters in February was that we would have inflation just above 2% this year," said Summers, who is also a professor at Harvard University and a paid contributor to Bloomberg. "We've already had more inflation than that in the first five months of the year."
Dalio, meanwhile, said he's less concerned with a potential 3% inflation rate and is more worried about the rising prices of financial assets. The S&P 500 halted a four-day slide on Monday and the Dow Jones is on pace for its biggest one-day jump since March.
"There's a massive amount of liquidity around, and it's being thrown around so that it's a difficult environment for those returns to be justified," Dalio said. "I think we're building kind of a bubble."