Daiwa House Logistics REIT Set to Be SGX's Largest IPO in a Year
(Bloomberg) -- Daiwa House Logistics Trust is seeking to raise about S$464 million ($343 million) in an initial public offering that's set to become Singapore's largest in a year. 
The Singapore real estate investment trust, sponsored by Japan's Daiwa House Industry Co., is offering 580.5 million units at S$0.80 each, according to terms of the deal obtained by Bloomberg News. That would be the biggest listing on the Singapore exchange since Nanofilm Technologies International Ltd. raised $346 million in October 2020. 
"The sponsor is an established one and they are listing at the right time given that logistics and industrial assets are in demand," said Joel Ng, an analyst at KGI Securities (Singapore) Pte. "This would be the only Japan pure-play REIT listed in Singapore, and that may generate some interest."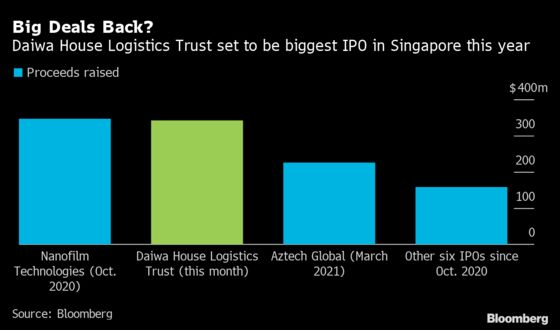 The offering marks the return of larger listings to the Singapore exchange, which hasn't hosted a first-time share sale bigger than $100 million since March. While the financial hub has missed out on an IPO boom across other parts of Asia including India and South Korea, the SGX has been a regional leader in establishing a framework for blank-check companies.
Novo Tellus Capital Partners is said to have applied to list a special purpose acquisition company that could raise between between S$200 million and S$250 million in an IPO that is expected to happen by the end of the year.   
For Daiwa House Logistics's REIT, about 58% of the units have been committed to cornerstone investors including firms such as Credit Suisse AG, DBS Bank Ltd. and DWS Investments Australia Limited, according to the terms.  
The bookbuilding period started Thursday and will end on Nov. 18, with an expected listing date on Nov. 26. 
DBS Bank Ltd., Nomura Singapore Limited, Citigroup Global Markets Singapore Pte. Ltd., Credit Suisse (Singapore) Limited, Daiwa Capital Markets Singapore Limited, Mizuho Securities Asia Limited, Morgan Stanley Asia (Singapore) Pte. and SMBC Nikko Capital Markets Limited are arranging the deal.