Daimler Truck Profit Push Keeps Shares Rolling Ahead of Spinoff
(Bloomberg) -- Daimler AG's sprawling truck unit sketched out plans to turn its unrivaled global scale into better financial results ahead of its spinoff from Mercedes-Benz luxury cars later this year.
The division showcased its strategy for electrification, self-driving technology and run-of-the-mill operating improvements during a virtual event Thursday, setting a target to reach double-digit operating margin by 2025 if markets are supportive. Optimism that a split from Mercedes will help close a profitability gap with Volvo AB and Paccar Inc. sent the shares 3.7% higher in Frankfurt.
"We are willing to take hard decisions to lower our break-even and raise our performance," Daimler Truck Chief Executive Officer Martin Daum said. "We will reset profitability and target the benchmark in each region."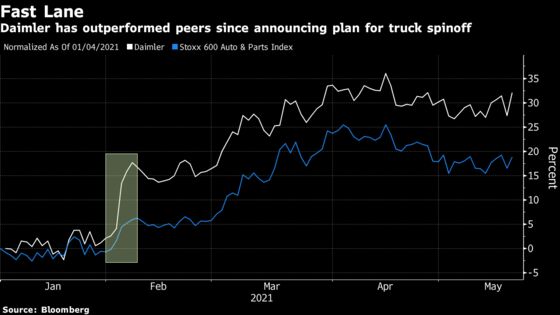 Daimler boasts a truly global footprint that's unique among commercial-vehicle manufacturers. While Volvo just trimmed its presence in Asia by selling its UD Trucks business in Japan, Traton SE, the subsidiary of Volkswagen AG, is finishing its takeover of U.S. truckmaker Navistar International Corp. next quarter. Electric-vehicle specialists including Tesla Inc. and Nikola Corp. are meanwhile plotting inroads amid the global crackdown on transport emissions.
"Being the largest truck producer in the world, Daimler Truck clearly has the potential to perform on par with the most profitable truck manufacturers," said Roman Mathyssek, a consultant at Arthur D. Little. "The carve-out should lead to more flexibility, speed and more direct accountability to financial markets."
Initial signs of strategy shifts at Daimler Truck emerged months before this week's event.
Agreements to cooperate with Volvo on fuel cells, Cummins Inc. on medium-duty engines and Waymo LLC on autonomous driving signaled the manufacturer will be more pragmatic about sharing development expenses than in the past.
On Thursday, the company announced it will expand a partnership with Chinese battery maker Contemporary Amperex Technology Co. and work with Royal Dutch Shell Plc on hydrogen-refueling infrastructure. It also signaled it could flank the Cummins engine deal with a similar one for heavy-duty motors as the industry shifts away from combustion technology.
Daum, 61, and his top executives said Daimler sees potential for hydrogen-powered fuel cell trucks to complement electric rigs, signaling a broader approach than some rivals who predict battery-powered vehicles will dominate the sector.
Allocating investments efficiently across the company's global factory network will be key to finally delivering on the unit's longstanding pledge to turn scale into more substantial profit. Daum acknowledged fixing the domestic European operations "is the biggest challenge."
Daimler poached Karin Radstrom from VW's Scania brand to spearhead the latest turnaround push at Mercedes trucks. The restructuring will mainly affect white-collar jobs and target fixed costs and material expenses, Radstrom said.
There's "huge potential from expanding our service business," and it should be possible for the European operations to generate double-digit profit margins in the mid-term, she said.
Apart from Mercedes trucks, Daimler's trucks and buses division comprises Fuso in Japan, BharatBenz in India, Setra in Germany; and Freightliner, Thomas Built and Western Star in North America.
The company has relied heavily on profits from Freightliner in recent years, as North America tends to generate much of the industry's earnings. Prospects for other businesses are more difficult to predict. Global demand for buses, for example, has been doomed by the pandemic and it's unclear when sales might bounce back.
Global sales for the division grew 4% in the first quarter to 101,322 vehicles. The unit has targeted an adjusted return on sales of 6% to 7% this year. It generated a 6% margin in the first quarter, up from 2.8% a year ago, on 8.67 billion euros ($10.5 billion) of revenue.
The unit continues to expect its profit margin this year will be toward the upper end of its targeted range, but it stuck to the outlook partly because the global semiconductor shortage will have a "significant" impact on earnings in the second quarter, finance chief Jochen Goetz said.
In a presentation, the company laid out plans to reduce fixed costs, capital expenditures and research-and-development spending 15% by 2025 compared to 2019. That includes a 300 million-euro personnel-cost reduction by 2022. It will also push to expand sales of heavy-duty vehicles, which are usually more profitable than smaller ones.
"Daimler Trucks' management team presented in a very passionate, humble, and committed fashion at its strategy update," Sanford Bernstein analyst Arndt Ellinghorst said in a note. "We see this as a good start to build confidence in the financial market."