Daimler Sees 'Slight' Profit Gain This Year After Drop in 2018
(Bloomberg) -- Daimler AG is preparing a "comprehensive" cost-cutting program as the German automaker fights through a U.S.-China trade spat, slowing demand in Europe and North America and surging expenses to develop electric vehicles.
The Mercedes-Benz manufacturer is accelerating efforts to shore up flagging margins as pressures that weighed on last year's earnings are unlikely to blow over anytime soon. After a 29 percent drop in 2018 net profit, Daimler cut its dividend for the first time in nine years and forecast only a "slight" increase in earnings before interest and tax this year.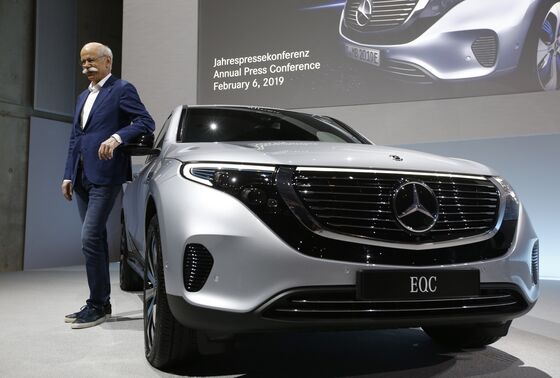 "The environment will remain extremely challenging in 2019," said Chief Executive Officer Dieter Zetsche. "That's why why we must continue working intensively on our efficiency," as profitability is a "prerequisite" for investing in new technologies.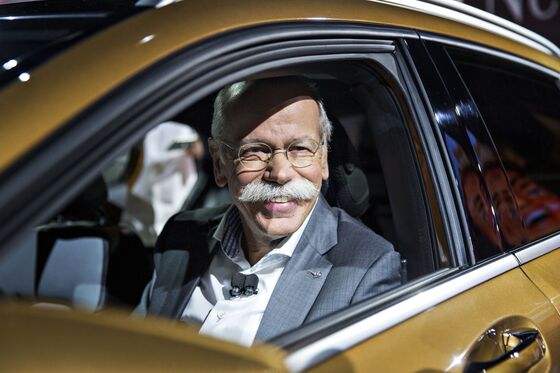 Zetsche, who was presenting Daimler's earnings for the last time, declined to specify the extent of the cuts or what was on the table, saying the measures are just being initiated and haven't yet been defined. The shares fell as much as 3.6 percent on the cautious 2019 forecast, which includes a small increase in revenue.
"The outlook and management commentary suggest that 2019 and 2020 will be significantly challenging," said Arndt Ellinghorst, a London-based analyst with Evercore ISI. "At the moment, pretty much all end-markets are at very healthy, peak volumes. This support will more likely wane in coming years."
The car industry has come through a difficult few months marred by trade tensions and falling sales in the U.S., Europe and China, the world's biggest market. The demand headwinds add to the strains caused by spending to develop self-driving, electric vehicles -- investment that will take years to pay off.
Daimler -- also the world's largest maker of heavy trucks -- issued two profit warnings last year, partly due to China's trade spat with the U.S., which led to added tariffs on its Alabama-made SUVs.
The company warned of geopolitical risks and a slowing global economy this year. It also expects worldwide demand for cars to be flat in 2019, while capital expenditures remain high and currency fluctuations cause headwinds of 1 billion euros.
Daimler shares fell 3.3 percent to 51.17 euros as of 12:32 p.m. in Frankfurt. The stock has tumbled 26 percent over the past 12 months, valuing the company at 55 billion euros.
Earnings declined in all divisions except heavy trucks in 2018. Profitability in the key Mercedes-Benz Cars unit narrowed to 7.8 percent from 9.4 percent a year ago, revealing the strains of investing in major technological shifts while also battling rocky markets.
For this year, Daimler forecast a Mercedes profit margin of 6 percent to 8 percent -- below target levels as lucrative SUVs get overhauled and spending on electric vehicles, like the new EQC, dilute earnings.
"We cannot and will not be satisfied with this," Zetsche said. "That's why we have started to develop comprehensive countermeasures," with the goal of lifting margins back into the range of 8 percent to 10 percent by 2021.
Stuttgart-based Daimler is the first European automaker to report fourth-quarter earnings and map out what could be another difficult year. Earlier Wednesday, Toyota Motor Corp. raised its global vehicle sales forecast for the year ending in March to 10.55 million vehicles, an increase of 50,000 vehicles, helped by higher sales in Japan and Europe.
Daimler proposed a dividend of 3.25 euros per share, an 11 percent decline and its first reduction since 2010, when the payout was omitted in the aftermath of the global financial crisis.
Wednesday's earnings are a disappointing farewell for Zetsche, who's been at the helm since 2006. Credited with a pivotal role during Daimler's divorce from Chrysler and a successful product overhaul, ongoing investigations into diesel emissions practices have weighed on his tenure. He will hand over to development chief Ola Kaellenius later this year.
In May, shareholders will vote on a new corporate structure to give the cars, trucks and mobility services units more independence to accelerate decision-making as newcomers like Tesla Inc. and Alphabet Inc.'s Waymo pressure the traditional auto industry. Investors have criticized the move as not going far enough and argue for a partial share sale of the trucks division.
The company said it will invest "a mid-three-digit million" euro amount in 2019 on creating the new group structure with three legally independent units, the biggest overhaul in more than a decade as the inventor of the automobile positions itself for a new automotive era.
"Our ambition is clear," said Zetsche. "We want to shape the technological transformation from the top."