Daimler Shelves Iran Expansion Plan on U.S. Trade Sanctions
(Bloomberg) -- Daimler AG will freeze operations in Iran, including a plan to make trucks, after the U.S. renewed a host of sanctions and President Donald Trump threatened to penalize companies doing business in the country.
The German carmaker has suspended its "limited" activities because of the trade curbs coming into effect Tuesday, the world's biggest luxury carmaker and commercial vehicles manufacturer said in an emailed statement. The move is a reversal of Daimler's 2016 effort to re-establish ties by selling and producing trucks with Iran Khodro Co., the nation's biggest auto producer.
As the U.S. walked back from the 2015 nuclear agreement, a host of other companies, including French carmakers Renault SA and PSA Group, have said they're pulling back from doing business in Iran. Airbus SE has delivered only a fraction of the 100 aircraft that were part of a deal before sanctions were reestablished, and Africa's biggest mobile-phone company, MTN Group Ltd., this month dropped a $750 million plan for fiber connections to Iranian cities.
"Anyone doing business with Iran will NOT be doing business with the United States," Trump tweeted earlier Tuesday.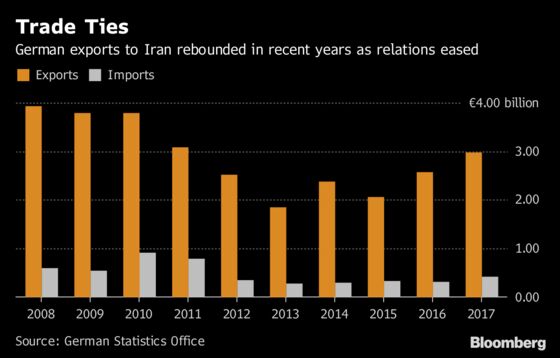 Since debilitating sanctions were eased in 2016, Iran emerged as a hot spot for growth, and trade with Europe surged to more than $10 billion. Now, these opportunities come at the risk of jeopardizing far greater business opportunities with the U.S., from where Daimler gets almost a quarter of sales. The German automaker's decision flies in the face of European Union efforts to protect companies.
Germany on Tuesday joined France, the U.K. and EU foreign affairs representative Federica Mogherini in rebuffing Trump's move with rules aimed at shielding companies from the sanctions.
"We are determined to protect European economic operators engaged in legitimate business with Iran," Mogherini and the foreign ministers of Germany, France and the U.K. said in a joint statement on Monday, vowing to stand by the accord. "Preserving the nuclear deal with Iran is a matter of respecting international agreements and a matter of international security."
Before dropping business in Iran for a first time in 2010 amid international sanctions against the country's nuclear-research program, Daimler had sold as many as 10,000 vehicles there annually. The company hadn't yet resumed sale or production of cars or trucks before the pullout announced Tuesday.
"We will continue to closely monitor the political developments, especially in connection with the future of the nuclear agreement," Daimler said. The company ceasing to operate in Iran was first reported by Stuttgarter Zeitung.