Daimler Drops to Five-Year Low After Second 2018 Profit Warning
(Bloomberg) -- Germany's car industry just can't stop the bleeding.
Daimler AG slumped to its lowest share price since July 2013, as investors dumped the stock after its second profit warning in four months. The carmaker blamed mounting expenses to upgrade diesel emissions systems in Europe and an increase in provisions to potentially replace air-conditioning refrigerant in older cars.
The fallout could have been worse, but analysts were already predicting earnings before interest and tax to drop 11 percent from last year to 13.09 billion euros, based on the average estimate compiled by Bloomberg
German carmakers are facing significant political pressure at home to fix diesel cars that pollute more in real-life driving than on the test stand. The news dragged down Volkswagen AG and key rival BMW AG, who's not accused of using illegal defeat devices
Daimler's second profit warning was "really disastrous," akin to "a falling star," said Bankhaus Metzler analyst Juergen Pieper
The company conspicuously didn't mention global trade tensions, which was the key justification for the last profit downgrade. It instead singled out a long-standing European Union complaint on air-conditioning coolant, showing the many fronts carmakers are battling on
Shares fell as much as 7 percent to 48.77 euros, the lowest intraday price since July 2013. They rebounded to 50.81 euros at 3:57 p.m. in local trading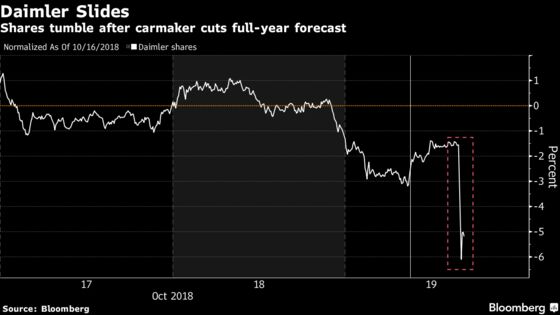 BMW cut its outlook last month, citing pricing pressure as rivals sought to unload vehicles ahead of new emissions procedures in the EU
VW has said it'll be a "titanic" effort to meet annual goals as the industry faces multiple issues including testing procedures, trade tensions, diesel's demise and a weakening Chinese economy