Daimler Floats Plan to Increase Stake in China Venture
(Bloomberg) -- Daimler AG has raised the prospect of boosting its stake in a joint venture with Chinese partner BAIC Motor Corp., according to people familiar with the discussions, as the luxury-car maker seeks to gain more control over its operations in the world's largest car market.
Daimler expressed an interest in increasing its holding to at least 65 percent from 49 percent, one of the people said, asking not to be identified as the deliberations are confidential. The discussions with state-owned BAIC are exploratory and the two carmakers may fail to to reach an agreement, the people said.
The U.S.-China trade war has made it more appealing for global carmakers to expand their foothold in the Asian nation. China eased the rules around automotive ventures this year, after decades of restricting foreign car companies to owning a minority stake with a local partner. The move also threatens to dry up a key source of profit for domestic automakers like BAIC, whose shares fell as much as 13.5 percent in Hong Kong Wednesday.
In October, BMW AG became the first company to take advantage of this rule change and announced it would own a majority stake in its venture with Brilliance China Automotive Holding Ltd. BMW would invest 3.6 billion euros ($4.1 billion) to raise its stake in the venture to 75 percent from 50 percent when the rules take effect in 2022. The BMW move -- which would leave the Chinese company entitled to a smaller share of the venture's future earnings -- has weighed on Brilliance shares, which are down 67 percent this year.
"BMW's plan to lift its stake in the venture with Brilliance sets a precedence for other foreign automakers increase the ownership of their manufacturing ventures in China," said Steve Man, a Bloomberg Intelligence analyst in Hong Kong.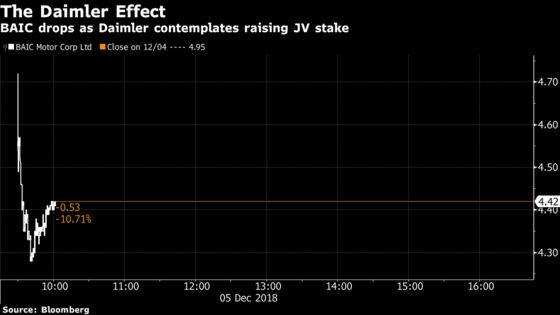 Daimler declined to comment on talks with BAIC, but said it is satisfied with the setup in China and its partnerships. Asked whether there are any early discussions about Daimler boosting its stake in BAIC, a representative for the Chinese company said, "there is no such thing," without elaborating. BAIC, he said, is happy with its current collaboration with Daimler.
BAIC had its biggest intraday drop in more than a month in Hong Kong. The stock traded down 11 percent at HK$4.41 as of 10:04 a.m. in Hong Kong, giving it a market value of HK$35.3 billion ($4.5 billion). Daimler dropped 2.9 percent to close at 50.45 euros in Frankfurt Tuesday, taking its losses this year to 29 percent.
A 16 percent stake in the BAIC venture would be valued at between 2.3 billion euros and 3 billion euros, estimates Christian Ludwig, an analyst with Bankhaus Lampe.
Last year, Daimler produced 430,000 vehicles through its venture with BAIC, accounting for some 70 percent of sales in the country. The manufacturer also makes electric cars under the Denza brand through a venture with BYD Co., but sales have been limited. In the first 10 months of the year, sales in China reached more than 550,000 units, a gain of 13 percent.
From 2022, global car companies will be allowed to hold majority stakes in passenger vehicle joint ventures, and the requirement to have a partner has already been lifted for electric car businesses.
A resilient Chinese business remains critical for Daimler to maintain its financial muscle and offset headwinds in a sluggish global auto market. Retaliatory import duties in China for goods from the U.S. are weighing on earnings as Mercedes-Benz builds most of its SUVs in Alabama. The company has hit road bumps this year with two profit warnings that have dented investor confidence. 
While the tit-for-tat trade war is between the U.S. and China, Daimler and BMW are among the biggest losers because they import luxury vehicles into China after building them in the U.S. On Monday, Daimler shares surged after President Donald Trump tweeted that China would reduce and remove the tariffs, which would hand the German companies a relief. China didn't confirm this and Trump's advisers were left scrambling on how to explain the tweet.
The director of the National Economic Council, Larry Kudlow, meanwhile said that an agreement Trump said he had secured from China to reduce or eliminate tariffs on U.S.-made cars isn't final, backtracking from the president's announcement.
Chinese billionaire Li Shufu's Zhejiang Geely Holding Group is the biggest shareholder of Daimler and the companies are planning a ride-sharing project.