Daimler Profit Tops Estimates as China Leads Sales Recovery
(Bloomberg) -- Daimler AG reported significantly better first-quarter earnings than analysts expected, driven by strong demand for Mercedes-Benz cars, particularly in China.
Group earnings before interest and tax was 5.75 billion euros ($6.9 billion) for the first three months of the year, compared with analysts' consensus estimate for 4.96 billion euros, the carmaker said in a preliminary earnings statement Friday. Daimler cited sales momentum in all major regions as well as cost cuts.
"We continue to execute on our ambitions in a very encouraging market environment," Chief Executive Officer Ola Kaellenius said in the statement. "Our systematic efforts to lower the break-even point of the company are becoming increasingly visible."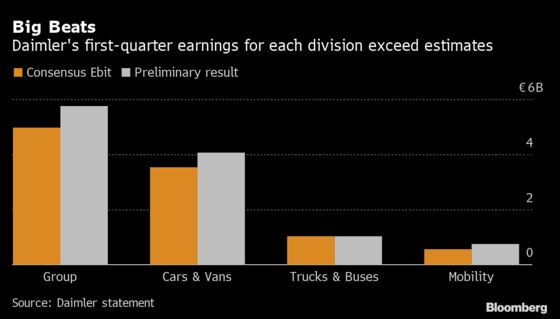 A year after German luxury-car makers' bleakest period in decades, business this time of year has never been better. Both Mercedes and BMW AG reported record first-quarter deliveries as industrywide sales finished strong in the U.S. and Europe. Carmakers' concerns have shifted dramatically from demand to supply issues, with the global chip shortage hampering production.
"Daimler's shift to higher-margin vehicles in light of the semiconductor shortage issue likely helped propel margins above normal levels," Tom Narayan, an analyst at RBC Capital Markets, said in a note. "We would expect BMW could also pre-announce similarly -- potentially even better given high used-car vehicle exposure -- and potentially VW as well."
Mercedes' first-quarter global car sales climbed 22% to 581,270 units, with Daimler's main division posting a 60% jump in China deliveries, it said earlier this month.
Shares of Geely Automobile Holdings Ltd., which is controlled by Daimler's biggest shareholder, billionaire Li Shufu, surged as much as 9.8% in Hong Kong trading Friday. Daimler shares have gained 30% this year.
Daimler will release full quarterly results April 23.