Daimler's Luxury Sheen Shows Cracks After Fourth Profit Warning
(Bloomberg) -- Barely three weeks ago, Daimler AG dialed back profit expectations for the year. The move was seen as a housekeeping exercise to allow Chief Executive Officer Ola Kallenius to start with a clean slate.
But on Friday, the Mercedes-Benz maker cut its earnings outlook again -- the fourth warning in just over a year -- suggesting an alarming degree of disarray at the world's biggest producer of luxury cars at a time when slowing sales and huge investments in new technology are testing the industry.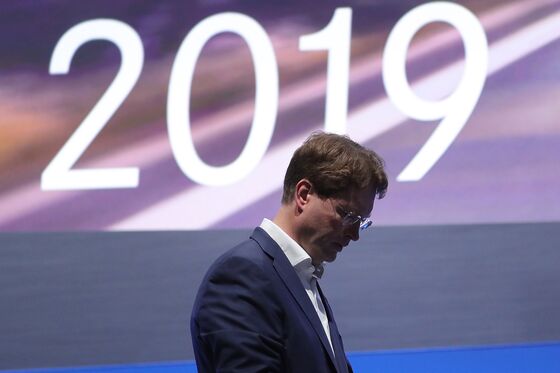 Daimler now sees earnings before some items falling "significantly" below last year's level, and said second-quarter results had swung to a loss of 1.6 billion euros ($1.8 billion) from a profit of 2.6 billion euros. It blamed provisions for vehicle recalls to fix defective airbags and a need to set aside more money to deal with long-running allegations of diesel-emissions tampering.
"Some call it 'to throw in the kitchen sink,''' Evercore analyst Arndt Ellinghorst said in a note, referring to the practice of dumping all the bad news into a single quarter's results. "Well, Daimler just threw in the dining room table, the fridge and the polished silver."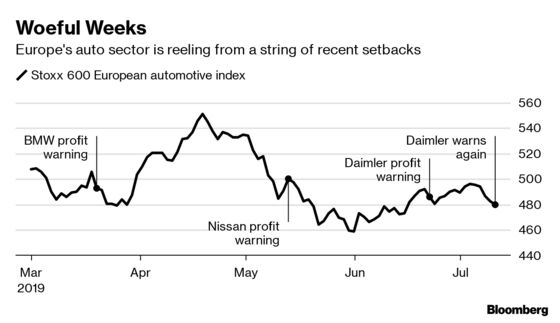 While issues with airbags from Japan's Takata started years ago, involving faulty inflators that propelled deadly shrapnel during accidents, Daimler said it discovered new potential issues during laboratory tests and decided to set aside 1 billion euros for a precautionary recall. Facing criticism of a piece-meal response to its handling of the diesel allegations, the company also increased provisions by 1.6 billion euros as fallout from investigations and legal expenses looms.
The shares fell as much as 4.5% in Frankfurt, before recovering most of their losses to trade 1% lower at 46.19 euros by 1:13 p.m. Insurance contracts on the company's debt are the worst performers in the iTraxx Europe index of credit-default swaps early Friday.
What Bloomberg Intelligence Says:
"Daimler's latest earnings cut should further pressure the automaker's credit-protection measures, and potentially place at least the outlook for its credit ratings at risk. Ratings could be further stressed if the company's dividend isn't right-sized, we believe, as free cash flow will fall below 2018's level."

--Joel Levington, senior credit analyst
Click here to read the research
Aside from one-offs on airbags and diesel, Daimler warned of slower markets and troubles with the rollout of several of its models, adding to a sense of gloom for the carmaker that took the luxury sales crown from BMW AG in 2016 with an overhauled lineup of sporty sedans and sport utility vehicles.
Daimler's latest profit warning didn't allay concern the carmaker might cut again, according to Jefferies analyst Philippe Houchois, who said its dividend was now "unsustainable" and cut expectations to just 50 cents. Daimler last year paid a reduced dividend of 3.25 euros.
The more pessimistic outlook heaps pressure on Kallenius, who's flanked by new Chief Financial Officer Harald Wilhelm, to implement proposals to cut costs and restore profitability. Investors have said the duo's strategy remains light on details as the carmaker buckles under recurring revisions that are without precedent in the German car industry. The warning also makes uncomfortable reading for former CEO Dieter Zetsche, leading Daimler for 13 years, who's set to segue to the supervisory board in 2021.
Still, some observers said it makes sense for the new CEO to clean up the problems left over from the previous leadership before attempting to put his own imprint on the company.
"It's better to issue a profit warning now and rebase expectations before he comes up with an updated strategy later this year," said Daniel Schwarz, an analyst at Credit Suisse.
While other carmakers and their suppliers have also warned of deteriorating results, Daimler appears worse hit. BASF SE, the world's largest chemical maker, last week fired a warning shot across industries with its reduced outlook, blaming slowing markets and the impact of the U.S.-China trade war. Returns at Daimler's core Mercedes-Benz cars division are expected to drop to between 3% and 5%, down from 6% to 8%, it said Friday.
Daimler's latest in a string of bad news sits uncomfortably next to an announcement by Volkswagen AG and Ford Motor Co. due later Friday that'll set a new bar on cooperation and cost reduction. The world's biggest and sixth-largest carmakers will team up on electric cars and autonomous driving to tackle the unprecedented shifts. It's the second win for VW's CEO Herbert Diess, who's making headway overcoming internal strife to overhaul the 12-brand behemoth to also list VW's truck unit Traton SE last month.
"Premium carmakers -- BMW and Audi too -- are struggling to go with the new times and wave goodbye to the glory days," said Juergen Piper, an analyst at Bankhaus Metzler. "But no one is struggling as much as Daimler."