Cynthia Nixon's New Role: Mission Improbable Against NY's Cuomo
(Bloomberg) -- Cynthia Nixon, the actress and now candidate for governor, has wasted little time trying to convince New Yorkers of color that she's more than just one of those white "Sex and the City" women who gad about Manhattan having affairs and cocktails.
She made her first campaign appearance March 20 at a black church in Brooklyn. Days later she toured a nearby public-housing project whose residents are predominantly African-American with a gaggle of news cameras, urging officials to make repairs and improve security.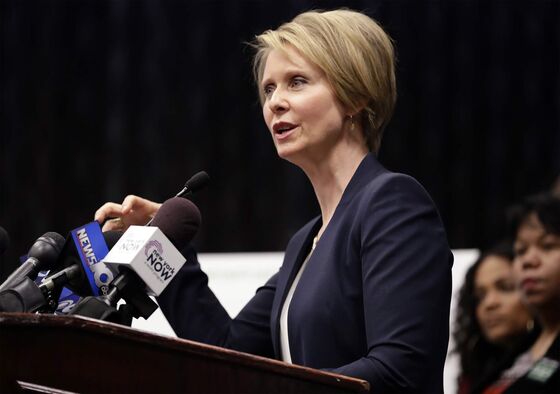 The New York native, who won an Emmy for the HBO series that ended in 2004, has come out hard against two-term incumbent Andrew Cuomo in the Democratic primary race to be decided Sept. 13. She has called him a "corrupt hypocrite" who has abandoned the party's core beliefs, a captive of corporations and wealthy donors. So far, voters aren't jumping. Cuomo led Nixon by 22 percentage points in a May 2 Quinnipiac University poll, and 60 percent of non-whites said they don't know her well.
The series, a glitzy fantasy, "reflects a part of New York that most people in my neighborhood don't know," said pastor Kirsten John Foy, 42, a Bedford-Stuyvesant resident who's northeast regional director of Al Sharpton's National Action Network. "The onus is on her not only to demonstrate her progressive ideals, but to persuade me not to vote for Cuomo."
The race is one of several across the U.S. in which Democratic candidates face insurgent challengers. Establishment politicians have prevailed in Ohio, New Jersey and Virginia in the past two years, usually by asserting they're as progressive as their upstart opponents. In California, Colorado, Florida and elsewhere, competition focuses on who's farthest to the left.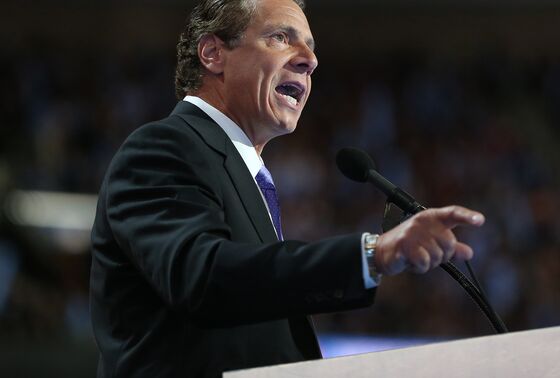 "Progressive Democrats are mounting challenges," New York Mayor Bill de Blasio, a self-described progressive, told reporters May 4. "We saw it in the 2016 elections, we're seeing it now even more that those challenges cause Democrats to have to be accountable to the values of Democratic voters."
If, as Nixon's supporters say, her candidacy is for the heart and soul of the Democratic Party, she's got a formidable opponent in Cuomo, a potential 2020 presidential contender. Cuomo cut his teeth managing campaigns for his late father, Mario Cuomo, a three-term governor whom former President Barack Obama described as "a determined champion for progressive values and an unflinching voice for tolerance, inclusiveness, fairness, dignity, and opportunity."
Cuomo, 60, insists he deserves similar accolades, with a record that includes arm-twisting Republicans to enact a 2011 gay marriage law. He can also take credit for some of the toughest U.S. gun-control measures, a $15 minimum wage, an immigrant legal-defense fund, a right-to-vote law for parolees, appointment of special prosecutors in fatal police shootings and a ban on fracking.
"There is no governor in America who has been a more effective progressive," said Cuomo spokeswoman Elisabeth Smith.
Nixon, 52, is best known for her acting, though she's also long been an advocate for school funding and gay rights. If elected, she would be New York's first woman and first gay governor. She lives in Manhattan with her wife, Christine Marinoni, who worked in de Blasio's Department of Education, and has three children.
De Blasio, who has been in a rancorous power struggle with Cuomo, says it's too soon to endorse anyone, even though Nixon is one of the mayor's most loyal supporters. Nixon helped organize fundraisers for de Blasio last year and in 2013.
Nixon blames Cuomo for the failing state-operated subways, problem schools and public housing in disrepair. He's more comfortable with Republicans controlling the state Senate than with Democrats who would tax the rich and help the struggling working class, she says.
The governor's $31 million campaign war chest may make him vulnerable to such attacks. Since 2002, Cuomo has raised more than $86 million in eight statewide races for attorney general and governor, with $24 million from the finance, insurance and real estate industries, according to the watchdog group FollowTheMoney.org.
Nixon, meanwhile, said she isn't collecting corporate donations. She received over 10,000 individual donations in her candidacy's first six weeks, and 98 percent were below $200, according to her campaign. Last year, Nixon and her wife had income of $1.5 million, mostly from investments, according to the Associated Press.
For Nixon to win, she would have to do a lot better than Cuomo's 2014 Democratic challenger, Zephyr Teachout, a Fordham University Law School professor who got only 34 percent of the vote.
Teachout got just 13 percent of the vote in the Bronx where more than half the residents are non-white, according to the U.S. Census Bureau. Non-whites contribute as much as 40 percent of the Democratic vote in a statewide primary, according to Bruce Gyory, who teaches politics at the State University of New York at Albany.
"The white progressives' Holy Grail to win the minority vote remains largely unfulfilled," Gyory said.
Last month, Nixon won the endorsement of the Working Families Party, which backed Cuomo in 2014 and whose national director, Maurice Mitchell, helped organize the Black Lives Matter movement. She has also hired consultant L. Joy Williams, the Brooklyn NAACP's volunteer president. Nixon, who rarely grants one-on-one interviews, made an exception for the Amsterdam News, a Harlem-based newspaper, and Glamour, the women's fashion and beauty magazine. She declined to be interviewed for this story.
The outreach and visits to crowded subway platforms and picket lines of striking workers may be having an impact. In what her supporters call "the Cynthia effect," Cuomo has taken to describing New York under his leadership as "the most progressive state in the country." He's escalated his attack on Trump policies, even threatening to enlist a Dunkirk-style citizens flotilla to stop offshore oil drilling. In the past month, he dropped his opposition to marijuana legalization.
Nixon has responded by poking fun at him. "Before this election is over he'll be protesting his own administration," she says.