CVS Gains as Same-Store Sales Defy Threats to Retail Pharmacies
(Bloomberg) -- CVS Health Corp.'s same-store sales grew 6.7 percent in the third quarter, driven by strong performance at the prescription counter and front-of-the-store retail revenue that rose slightly despite continued pressure from online sellers.
Adjusted earnings per share were $1.73, beating the $1.71 average of analysts' estimates. The company reaffirmed its forecast for 2018 earnings.
CVS's deal with health insurer Aetna Inc. is almost across the finish line. There are "no remaining antitrust impediments" to closing the deal, which should be done by the Nov. 22 Thanksgiving holiday, CVS said. The deal has approval from 23 of 28 states needed, CVS said, and is "well down the line" with the last five.
Much of the growth on the retail side is being driven by increased numbers of prescriptions coming through CVS stores. Same-store prescriptions are up 9.2 percent in the third quarter compared to a year prior.
The other half of CVS's business is administering drug benefits for employers, health plans and governments. As pressure on drug costs has risen in the U.S., the company said its pharmacy benefits business is also facing "price compression." Revenue in that segment grew 2.6 percent.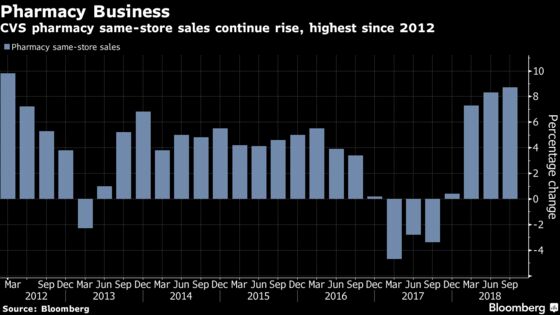 CVS shares rose 2.8 percent in early trading in New York on Tuesday. The stock is up 1.6 percent this year so far, as of Monday's close.
For detailed highlights of the third-quarter results, click here.
To read the company's press release, click here.