Larry Culp Locks Up $47 Million Payday by Winning Over GE's Doubters
(Bloomberg) -- Two years into Larry Culp's tenure atop General Electric Co., any number of existential concerns remain, from the company's pandemic-battered jet engine business to its still-bloated debt load to an uncertain strategy for longer-term growth.
But in a sign of just how successful Culp's rescue plan has been at stabilizing GE's finances and buoying investor sentiment, he has scored a major prize.
Culp's contract, renegotiated in August, included a tantalizing incentive: If GE's shares average above $10 for 30 days he is entitled to a stock payout valued at $46.5 million after he exits as CEO. He surpassed that threshold last week, according to a Bloomberg News analysis, part of a 73% rally since September as the company rides the biggest gain this quarter among U.S. industrial stocks. And that is just the first stage of a compensation plan that could net him more than $230 million if the stock keeps going up.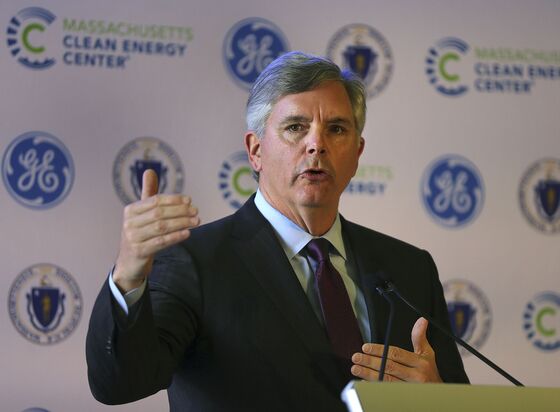 It's a remarkable turnabout for GE and Culp, 57, who took over in October 2018 with a Mr. Fixit reputation and set about trying to engineer a rebound from an epic collapse under his two most recent predecessors -- John Flannery and Jeffrey Immelt. The former boss of Danaher Corp., Culp sold off assets, cut costs and began slashing GE's sizable debt. Last month, things had stabilized enough that GE did its first significant acquisition since Immelt and settled a long-running accounting probe by the U.S. Securities and Exchange Commission. Wall Street was impressed as analysts, many of them long-time skeptics, raised their price targets.
GE's rapid ascent follows a whipsaw of investor sentiment toward the company, said William Blair analyst Nick Heymann. Expectations turned south earlier this year as the coronavirus pandemic pummeled the aviation business, then turned optimistic more recently as GE took strides toward greater stability and vaccine progress fueled optimism for an eventual recovery.
"When you go from 'the world is ending' to nirvana, that's where 80% of GE's move is coming from," Heymann said.
'Significantly Overvalued'
The long-term rebound remains a work in progress, to be sure. The pandemic has slashed demand for new jet engines, lucrative spare parts and maintenance sales at the company's aviation unit, which last year accounted for roughly two-thirds of GE's industrial profits. Its gas turbine business, while no longer a black hole of losses, faces excess capacity in the sector and a global push to reduce carbon emissions. Meanwhile, the company still carries a heavy debt load even as it heads toward a $30 billion reduction over the last two years. GE also had the largest pension deficit on the S&P 500 Index as of the end of 2019.
"GE definitely deserved to rally but now the stock screens as significantly overvalued and far ahead of its fundamentals," John Inch, an analyst at Gordon Haskett, said. "It could still take years for GE to potentially normalize its operations."
GE declined to comment, but pointed to an earlier statement by Culp in which he said management was encouraged by the company's progress in a challenging environment.
"We remain focused on the long term, not only in terms of our ability to perform but to realize our purpose and the full potential of GE," Culp said when the company released third quarter earnings in October.
The board's confidence in Culp was evident when it extended his contract by two years in the midst of the pandemic and after the stock had hit a 28-year low in May. The terms also made it easier for him to collect the incentive awards by halving the stock price target. At the time, some analysts viewed that as a signal of a weakened outlook for the shares and longer-than-planned timetable for Culp's turnaround effort.
GE was in dire shape when Culp was named CEO, replacing Flannery who was in the position for only a year. A 76% stock rout from 2016 through 2018 had wiped out more than $200 billion in GE's market value.
Culp's first task was to arrest the rapid decline that had fueled calls to break up the iconic manufacturer. While he has calmed those fears --the stock rallied in 2019, his first full year, before the pandemic hit -- investors are still looking for additional clues how GE plans to "play offense," as Culp has put it.
So far, Wall Street doesn't seem bothered by that, instead focusing on tangible signs that Culp is making progress in his turnaround effort. GE topped expectations for sales, earnings and cash flow during the third quarter and has telegraphed an even better fourth-quarter result, with at least $2.5 billion in free cash flow from its industrial operations. The company burned through $4.2 billion in the first six months of 2020. Industrial free cash flow is closely watched as a key gauge of earnings potential at the company's manufacturing operations.
Investors were also heartened by the SEC settlement in which GE agreed to pay $200 million to settle the accounting probe, without admitting wrongdoing, resolving a longstanding source of uncertainty. It may also give the Boston-based company an opening to raise $15 billion or more in fresh equity capital that could be deployed to further cut its debt load and pension deficit, according to Inch, the Gordon Haskett analyst.
All told, Culp plans to cut costs by $2 billion to ride out the pandemic. The latest round has focused on its jet-engine business where thousands of employees have lost jobs amid a 41% decline in orders this year through September.
But, as Heymann sees it, the smaller cost base will position GE to generate better cash and profits once travelers return to the skies and demand for spare parts and repairs returns, even if it happens slowly.
He's also optimistic that the world's pivot to renewable sources of energy from fossil fuels will eventually benefit the company, which makes wind turbines and has projects underway to convert gas turbines to run off hydrogen.
All in all, he said about GE, "We've come off the edge."