CryptoDad's New Title Implies He Works in Government. He Doesn't
(Bloomberg) -- J. Christopher Giancarlo no longer runs a high-profile Wall Street regulator, but he found a way to keep some of the prestige of his old job: adopting the made-up title, "chairman emeritus."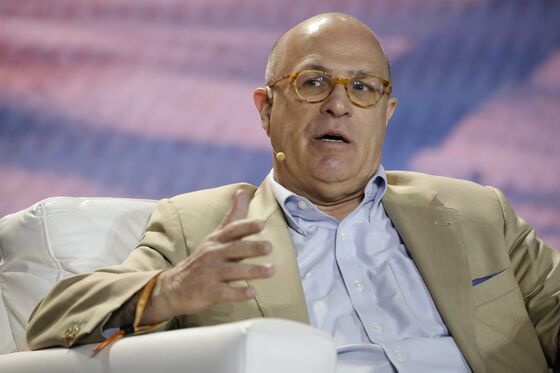 The moniker has surprised former political appointees at the U.S. Commodity Futures Trading Commission, where Giancarlo was President Donald Trump's first chairman. While some ex-officials see the move as a questionable Trumpian attempt at self promotion, others say it crosses ethical lines by suggesting he maintains ties to a powerful watchdog for digital coins and the $610 trillion derivatives market.
That's problematic, some ethics specialists said, because in the private sector, Giancarlo presents himself as an expert attorney on cryptocurrencies -- an industry in regulators' crosshairs that's desperate for advice on navigating Washington. He had used the emeritus title on his LinkedIn profile as recently as this week and it has appeared in biographical material for some of his public appearances.
"It's a misrepresentation," said Richard Painter, a University of Minnesota Law School professor. "There is no such thing as an emeritus chairman of a federal agency."
Painter, who points out that he is a "former, not emeritus" associate counsel and chief White House ethics lawyer under President George W. Bush, said the term implies "a special relationship" with the CFTC that Giancarlo no longer has.
In an email, Giancarlo, 62, said he removed the emeritus title from LinkedIn after being contacted by Bloomberg News. "Thank you for bringing this to my attention," he wrote.
Giancarlo also said that he is called "former chairman" on his own website, as well as in bios for several other organizations or companies where he is on the board. That includes the Willkie Farr & Gallagher law firm in New York where he is a senior counsel and co-head of the digital assets practice group.
Giancarlo, who is well-known among virtual token investors, recently wrote a book called "CryptoDad: The Fight for the Future of Money." The title stems from a nickname bestowed on him by coin enthusiasts, who cheered his advocacy for the industry at the CFTC. Giancarlo first joined the regulator in 2014 as a commissioner, and was elevated to chairman in 2017; he left in 2019.
Former federal appointees touting their credentials as a means of getting business is, of course, standard practice at law and lobbying firms. There's even a term -- revolving door -- for moving between the government and industry.
But more than a half dozen former high-level officials at the CFTC and other financial regulatory agencies who asked for anonymity so they could speak candidly, said they were shocked Giancarlo was referring to himself as emeritus. None had ever heard of any other ex-government appointee describing themselves that way.
Take, for example,  Jay Clayton, who ran the Securities and Exchange Commission under Trump.  In promotional materials for a cryptocurrency conference where he appeared with Giancarlo, Clayton is called "former chair," while the ex-CFTC chief is labeled "chairman emeritus."
For a July speaking engagement, the American Financial Exchange, where Giancarlo is on the board, also billed him as emeritus. 
The term comes from Latin and is most often associated with academia, where retiring professors are sometimes given the title by their universities. It is often used as a sign of respect but also indicates a continuing, though diminished, association with the school.
The title appears less often in the corporate world, though some companies reserve it for founders or legendary CEOs. Still, those honorifics are granted by the institution. 
Fowler West, a former Democratic CFTC commissioner appointed by President Ronald Reagan, said that while he doesn't question Giancarlo's motives for calling himself emeritus chairman, it's not a term ex-officials regularly use.
"It is a little bit odd," West said. "It certainly has no basis in the law."