Greece Declares TUI Crew Members Covid-Free After New Tests
(Bloomberg) -- Greek officials confirmed that 12 crew members on a TUI AG cruise ship tested negative for the coronavirus after initially showing positive results.
A team of Health Ministry officials boarded the Mein Schiff 6 at the port in Piraeus, near Athens, on Tuesday to conduct more testing. The results were negative for all the 12 crew members, the authorities said. The results confirmed rapid-screening follow-ups conducted by TUI that also turned out negative.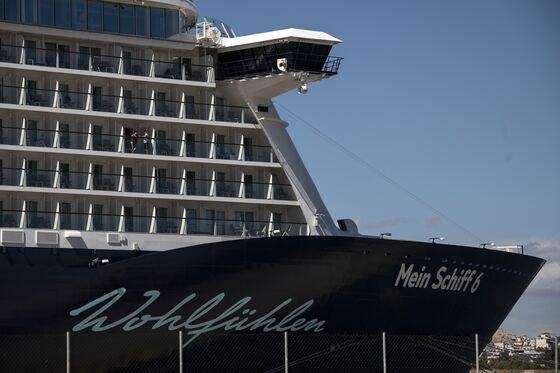 The scare began on Monday, when the dozen staff, among 150 tested prior to the ship's departure from Heraklion on Crete, were flagged as the ship headed toward Piraeus carrying 900 passengers.
The incident exposes the limits of using testing, which can produce false positives and negatives, to rebuild consumer confidence in hard-hit travel industries where passengers are thrown together in enclosed planes or ships with hundreds of others.
Read: Lufthansa Chief Sees Europe-U.S. Flights Reawakened by Christmas
TUI shares fell 3.8% at 9:59 a.m. in London, compared with a drop of less than 1% for the FTSE 250 index.
All 666 crew had earlier been screened for the virus, undergone 14 days of self isolation, and then passed a further check as part of precautionary measures. The Mein Schiff 6 was the first to resume cruises in Greece on Sept. 13 after the lifting of restrictions related to the virus.
Passengers were required to produce a Covid-free certificate before embarking on the cruise and so weren't screened further.
Greek officials said they are now testing members' close contacts. No one will be allowed to disembark Tuesday, though if no cases are confirmed, the cruise will continue on to Corfu on Wednesday evening as planned, the authorities said.
TUI Cruises is a joint venture between TUI and Royal Caribbean Cruises Ltd., the world's second-largest cruise company.