Cruise Industry Seeks to Limit Travelers Ages 70 and Up
(Bloomberg) -- The leading cruise-industry group, responding to the coronavirus pandemic, proposed barring all passengers ages 70 and up from boarding ships unless they get a note from a doctor, according to a person familiar with the document.
The plan submitted to the White House by the Cruise Lines International Association would also keep travelers with certain preexisting conditions from boarding, said the person, who asked not to be identified because the Trump administration hadn't had time to weigh in.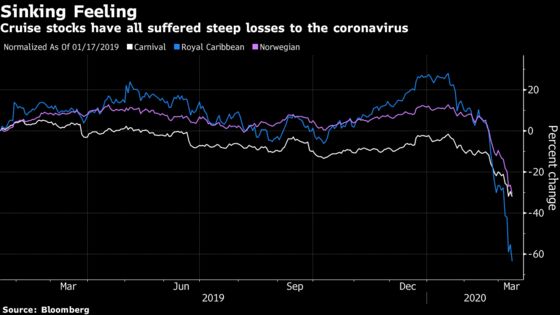 The White House had asked the industry to come up with a list of measures to ensure safe conditions. USA Today reported on the proposal earlier Wednesday. Members of CLIA, as the trade group is known, make up 90% of global cruise capacity and include major carriers such as Carnival Corp. and Royal Caribbean Cruises Ltd.
Still, it wasn't clear the proposal would allay the concerns of governments and health officials. Earlier this week, the State Department said all Americans should avoid cruise travel, citing the increased risk of infection on the vessels. It said older travelers and those with underlying conditions were especially at risk.
But the department ultimately left the decision to passengers, many of whom openly ignored it.
The CLIA proposal could have a dramatic impact on bookings. A 2018 study showed the 70-and-up age group represented 14% of passengers. The biggest age group was 60-69, representing 19%.
The cruise business has been upended by the spread of the virus and cases on two ships operated by Carnival's Princess line, one in Yokohama, Japan, and the other off California. Other vessels have been refused permission to dock or faced quarantines, though no cases were ultimately found.
The incidents have strained health resources, forced passengers into quarantine and wiped about $49 billion -- or 65% -- off the market values of Carnival, Royal Caribbean and Norwegian Cruise Line Holdings Ltd., the three biggest operators, since mid January.
All three stocks plummeted again Wednesday, led by Norwegian's 22% loss.