Oil Rises on Hopes Russia Will Agree to OPEC+ Production Cut
(Bloomberg) -- Oil advanced for a second day on hopes that OPEC and its allies would further curb oil production as the deadly coronavirus outbreak hits global energy demand.
Futures climbed 0.4% in New York on Thursday after a panel of technical experts from the Organization of Petroleum Exporting Countries recommended cutting output by an additional 600,000 barrels a day. But Russia remained noncommittal, asking for more time to decide.
"There's a little bit of hope OPEC will support the market," said Michael Loewen, director of commodity strategy at Scotiabank. "Even before the virus, OPEC's prior production cuts still left markets oversupplied and Russia has been reluctant to stick to these, so that also casts doubt on what they're willing to do here."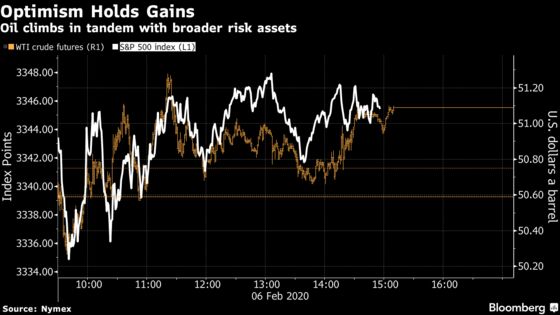 Prices have lost 17% this year as the spread of the coronavirus has disrupted travel and fuel consumption, wiping out about 20% of oil consumption in China, the world's second largest economy and key engine of crude demand. The outbreak has prompted the state oil company of Saudi Arabia, the world's largest oil exporter, to make deep cuts to the price of crude it sells to Asia.
West Texas Intermediate crude advanced 20 cents to settle at $50.95 a barrel on the New York Mercantile Exchange after earlier gaining as much as 2.9%.
Brent traded 35 cents lower to close at $54.93 on the London-based ICE Futures Europe exchange, putting its premium over WTI at $3.79.
Also weighing on OPEC's decision is the blockade of Libya's ports which has hampered oil exports. The United Nations will hold a conference in Cairo on Sunday to discuss Libya's oil production as the country's warring sides are working to turn a provisional cease-fire into a formal agreement.
"OPEC's ability to cut production is fairly constrained as it is," says Ryan Fitzmaurice, commodities strategist at Rabobank. "The coronavirus is still front and center but they're also balancing the supply side risks in Libya."
Libya's oil output has since plunged to its lowest levels since the NATO-backed uprising against Qaddafi. The warring factions attended an international meeting in Berlin last month amid a tentative cease-fire.
See also: How Libya has contributed to falling OPEC output
Other oil-market news:
Gasoline futures rose 0.8% to settle at $1.4980 a gallon.
China's top refiner Sinopec is considering cuts to its purchases of Saudi crude for March loading, according to people familiar with the company's position.
Airlines have been rushing to hedge their fuel costs amid the recent collapse in prices.
The Arab monarchies of the Persian Gulf face a budget reckoning and risk squandering their $2 trillion in financial wealth within 15 years as oil demand nears peak levels, according to the International Monetary Fund.