Oil Dives After CDC Warns of Impending Virus Outbreak in U.S.
(Bloomberg) -- Oil deepened a three-day rout as panic over a coronavirus outbreak in the U.S. gripped investors and sent shockwaves through commodity, equity and debt markets.
Futures fell 3% in New York to the lowest level in more than two weeks. The U.S. Centers for Disease Control and Prevention warned Americans to brace for an outbreak at home. A spike in infections in other parts of Asia as well as the Middle East and Europe has raised fears of a global pandemic impacting the stability of the global economy.
"This virus has had a violent effect across markets", said David Tawil, president of Maglan Capital in New York. "There may be more shocks to come as the virus spreads, prolonging the time for oil to regain its footing. No one knows how long or painful this will be."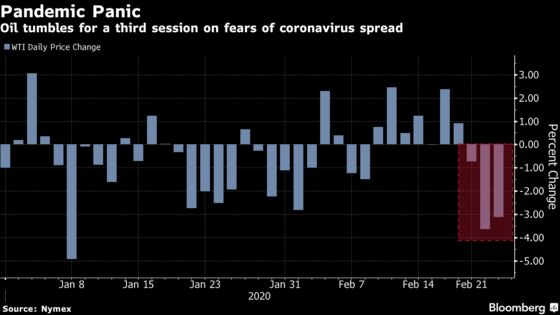 Oil declined in tandem with U.S. equities and the 10-year U.S. Treasury yield, which fell to a record low, as investors grappled with the prospect of the virus disrupting the world's largest economy.
The slump in prices comes as the Organization of Petroleum Exporting Countries and allied producers prepare to meet in Vienna next week. Saudi Arabian Energy Minister Prince Abdulaziz bin Salman said the group hasn't made a decision yet on whether to extend or modify production cuts in response to the outbreak.
Investors largely shrugged off an industry report showing a build in U.S. crude stockpiles last week. The American Petroleum Institute reported that inventories rose by 1.3 million barrels, according to people familiar with the data. Distillate supplies fell 706,000 barrels while gasoline stockpiles rose by 74,000, API said.
The U.S. Energy Information Administration will publish its weekly petroleum report on Wednesday.
West Texas Intermediate for April delivery traded at $50.14 a barrel at 4:45 p.m. after ending the session at $49.90 on the New York Mercantile Exchange.
Brent for April settlement fell $1.35 or 2.4% to $54.95 on the ICE Futures Europe exchange, putting the premium over WTI at at $5.05.
Amid slump in prices, investors were paying more to protect against price swings, especially declines. Implied volatility on WTI options rose to the highest level since September, according to a CBOE/CME index. Also, the so-called put skew -- the premium traders will pay for options protecting against a drop in prices over those protecting against a rise -- closed at the highest level since June.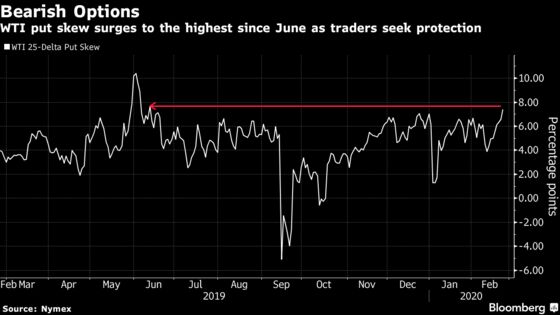 Other oil-market news
Gasoline futures fell 4.8% to settle at $1.5324 a gallon.
A closely watched North Sea oil-price indicator is reflecting little of the demand destruction that the coronavirus has wrought on global markets.
Two dark clouds loomed over the oil industry's biggest gathering of traders and producers this year: climate change and the coronavirus.
India's Bharat Petroleum Corp. has purchased two more oil cargoes originally destined for China.
Saudi Arabia's ousted former energy minister Khalid Al-Falihreturned to government on Tuesday as investment minister, taking on a key new portfolio as the kingdom seeks to win back foreign investors.