Cross-Border LBOs to Boost Europe's Leveraged Finance Market
(Bloomberg) -- Europe's next bout of leveraged finance supply will take a distinct cross-border flavor with up to six transactions being primed by bankers.
M&A deals for British packaging maker RPC Group Plc and Belgian lens maker Physiol SA emerged this week, adding to the pipeline of companies planning to raise funds in both euros and dollars. A jumbo $10.2 billion of loans and bonds transaction for the buyout of Johnson Controls International Plc's' power unit is also waiting in the wings.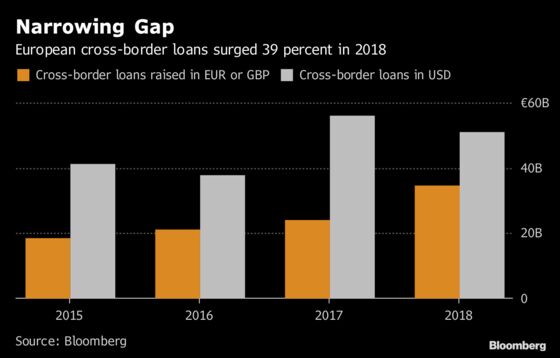 The new wave of supply will test whether some of last year's resistance to looser lender protections and high leverage multiples will be applied to upcoming deals. Large leveraged buyouts and corporate acquisitions typically target both U.S. and European markets to lure a bigger pool of investor interest.
Lenders across both U.S. and European markets last year flexed their muscles to demand better terms, or in some cases turned down deals altogether.
This year, a borrower's preference to tap either market will depend in part on the backdrop. The U.S. secondary loan market was off to a strong start and new deals have met with substantial investor interest, allowing borrowers to lock in more attractive funding costs. The European secondary market has also rallied but slow primary issuance means demand is still largely untested.
Cross-border issuance denominated in euros and sterling rose to 36 billion euros-equivalent ($41 billion) last year from 26 billion euros in 2017, according to Bloomberg data.
Last year's largest cross-border deals included TDC A/S and Refinitiv, a unit of Thomson Reuters Corp.'s financial-and-risk operations. TDC raised a 2.7 billion euro term loan along with a smaller dollar facility in May, while the $13.5 billion financing package for Refinitiv included a 2.16 billion euros piece.
Refinitiv, Akzo Chemicals Join 2018's Largest Euro Term Loans
RPC Group Plc expected to launch a multi-billion deal comprising euro and dollar loans and subordinated bonds
Ophthalmic products maker BVI to raise a loan financing across euros and dollars to support the acquisition of Physiol
Getty Images said to be planning a U.S. dollar and euro-denominated debt raise to refinance its existing debt
Brookfield Business Partners and CDPQ seeking $10.2 billion of loans and bonds denominated in euros and dollars to finance its purchase of the JCI's power unit
EG Group expected to tap the market for a 1 billion-equivalent euro senior secured financing for its acquisition of 540 Woolworths fuel convenience sites in Australia. The financing could comprise euros, dollars and Australian dollars
Nordic Capital's purchase of U.S.-based Orchid Orthopedic Solutions may include a euro-denominated portion