Crispr Analysts Dazzled as Early Data Herald New Treatment Era
(Bloomberg) -- Crispr Therapeutics AG surged to the highest since May 2018 as analysts across Wall Street applauded early data using the next-generation gene-editing tool that shares the company's name.
The results from Crispr and partner Vertex Pharmaceuticals Inc. in a pair of patients with different blood disorders looked encouraging to analysts. Chardan Capital Markets' Geulah Livshits said the data herald an "era of Crispr-based" therapeutics. Jefferies highlighted that the results demonstrated both the effectiveness and safety of the therapy, though research in to long-term durability and more patient data are needed.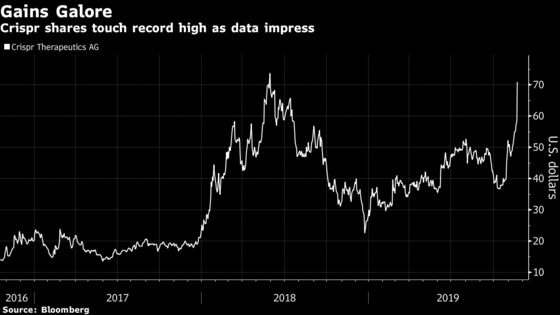 Crispr surged as much as 26% Tuesday to a record and the highest since May 2018 while Vertex rose 2%, also hitting an all-time high. Rival companies developing medicines based on Crispr technology also traded higher as Intellia Therapeutics Inc. shares jumped 17%, the most since August 2017 while Editas climbed as much as 17%.
Here's a sample of the latest commentary:
"While these are early days for CTX001 and the broader gene editing space, we see these data as in important indicator that gene editing-based therapeutics clearly have the potential to durably treat (or cure) serious diseases, as well as to compete within the broader therapeutic landscape."
"Importantly, both patients exceeded clinical efficacy metrics in their respective studies," with the beta thalassemia patient being transfusion independent at nine months while the sickle cell disease patient was free from painful flare-ups.
"Overall, the early efficacy signals look positive to us: both patients showed a high percent of F cells, or red blood cells positive for fetal hemoglobin." That suggests "a high editing efficiency in the initial product."
Maintains buy rating on Crispr with $72.50 price target.
Sees data as incrementally positive given they show "both efficacy and safety for the therapy" despite some Wall Street hopes for data from more patients. Results bode well for long-term pipeline thesis on shares of Vertex.
"Despite being somewhat early in our view, the data show 1) relatively rapid engraftment following CTX-001 infusion in ~30-40 days after infusion, 2) clear disease modification with patients achieving transfusion independence or vasoocclusive event free post treatment, and 3) safety with most" adverse events not being related to CTX001.
"We believe the next wave at VRTX 'beyond CF' is the exciting and growing early-stage pipeline particularly focused gene editing."
Rates Vertex a buy with a price target of $210.
Piper Jaffray, Edward Tenthoff
"While only 2 patients, we are impressed by these early results showing potential curative effect and look for more patients and longer follow-up next year."
Impressed with the reduction of life-threatening complications in sickle cell disease patient and the absence of transfusions needed for the beta thalassemia patient.
Maintains overweight rating and $247 target on Vertex and increased his price target on overweight-rated Crispr to $107 from $100.
RBC Capital Markets, Brian Abrahams
"Overall, while still very early, the results provide the first suggestion of curative potential for this cutting-edge technology in such genetic diseases, and with potential for further safety refinement of CRISPR/Cas9 administration, could suggest broad long-term potential of the many early-stage gene editing therapeutic tools VRTX has accumulated."
Safety worries appear to be related to conditioning regimens for the therapy which leaves potential to improve with newer techniques. Abrahams sees the early effectiveness as a proof of principle for Vertex's growing gene editing portfolio which can drive longer-term value for investors.
Rates Vertex outperform with a $210 price target.
Evercore ISI, Ravi Mehrotra
The data were "very solid" with the only pushback being the companies only had data from a pair of patients despite some market expectations for three to four patients.
Rates Crispr at outperform with $50 price target.