Venezuela and Saudi Arabia Ship Record-Low Oil to U.S.
(Bloomberg) -- U.S. sanctions on Venezuela and Saudi Arabia's production cuts are rippling to American shores.
Saudi Arabia, OPEC's largest producer, sent just 415,000 barrels a day of crude oil to the U.S. last week, matching the record-low, according to government data going back to 2010. At the same time, Venezuela shipped only 117,000 barrels a day to its American buyers, an all-time low.
On a four-week average, Saudi crude imports fell to the lowest since November 2017. The Kingdom has exceeded its pledge to OPEC+ on production cuts that began in January, and has publicly indicated that the U.S. would bear the brunt of those curtailments.
Meanwhile, the decline in imports from Venezuela to the lowest in weekly data going back to 2010 happened two weeks after Congress slapped new sanctions on Petroleos de Venezuela SA that effectively cut off oil imports from the South American country. On a four-week average, it's the second smallest.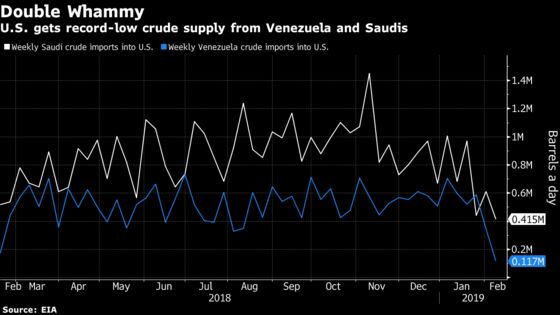 Supply curtailments from both OPEC nations have already started to impact U.S. refiners, particularly those that rely on heavy, sour crude, which is mostly what Saudi Arabia and Venezuela produce. This is in addition to the lack of oil flowing to the U.S. after mandatory cuts in Alberta.
Mars Blend crude, a regional sour crude benchmark, rose this month to trade at the smallest discount to Light Louisiana Sweet crude in over seven years. And the situation isn't expected to improve anytime soon. Venezuelan production is expected to drop to 500,000 barrels a day by the end of this year, the smallest in data going back to 1962.