Crimea Tensions Surge as Putin Tests the West
The confrontation between Russia and the West over the fate of Ukraine has entered a dangerous new phase.
The flashpoint is access to the Kerch Strait, a key waterway for sea traffic to both countries that's now straddled by a Russian bridge to Crimea, the peninsula annexed by President Vladimir Putin in 2014. Russian warships fired on Ukrainian vessels near the strait yesterday. 
Following months of rising tension, the clash comes days before Putin meets U.S. President Donald Trump at the Group of 20 summit – a session that will test Washington's resolve to support Ukraine against Russia.
The European Union, which urged restraint, also faces questions over its willingness to react amid fatigue among some member states at the prospect of further sanctions on Russia. 
Ukrainian President Petro Poroshenko spoke by phone with NATO's secretary-general today and wants his parliament to declare martial law. Some opposition lawmakers accuse him of using the tensions as a way to delay presidential elections in March that he's likely to lose.
Putin may be gambling that a divided West won't oppose Russia tightening control over the strait and disrupting Ukraine's economy ahead of the vote.
The risk, however, is that tensions spiral into open military conflict between Ukraine and Russia.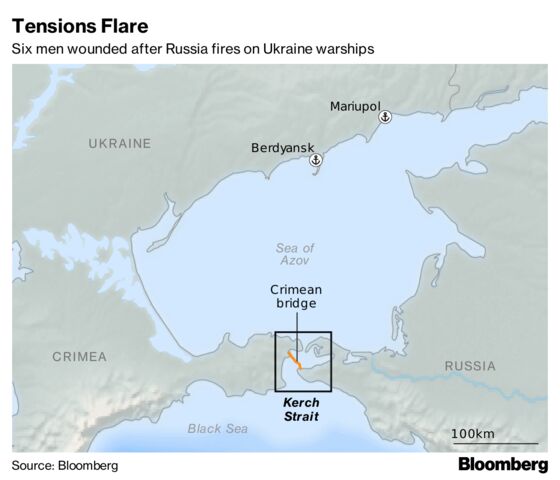 Good luck, Theresa | After 17 months of negotiations, U.K. Prime Minister Theresa May got her Brexit deal at a summit of EU leaders yesterday. Now she's launching a campaign to sell it to the public and persuade lawmakers to back it in Parliament, a task her Brexit secretary admits will be "challenging." If the Commons rejects her agreement in a vote next month, the U.K. will be on course to leave the EU with nothing to cushion the blow. Click here for the most iconic images from Britain's Brexit journey.
Democratic soul-searching | Nancy Pelosi's bid to regain the U.S. House speaker's gavel is caught in a battle over her party's future, Anna Edgerton and Arit John write ahead of a critical meeting this week. Pelosi's fate will help set the tone for 2020, when strategists are urging Democrats to stay focused on economic issues and resist the temptation to engage Trump on his pet issues like stopping refugees and banning Muslims.
Prince's future | Almost two months after the murder of Saudi critic Jamal Khashoggi, Crown Prince Mohammed bin Salman's fate is still the talk of the town in Riyadh. While he has his father, King Salman, and Trump in his corner, there are still unknowns. As Glen Carey and Donna Abu-Nasr write, the prince has many enemies, Turkey may have evidence implicating him in Khashoggi's killing, and House Democrats look set to probe whether Trump has financial ties with Saudi Arabia that colored his response.
Sudden doubt | The future of Taiwan's pro-independence leader, Tsai Ing-wen, is uncertain after her party's resounding loss to the China-friendly Kuomintang in local elections. She'll have to turn things around before the presidential vote in 14 months' time. A return to power by the Kuomintang would be welcome in Beijing, which froze all direct contact with Tsai after she refused to accept the mainland's claim that Taiwan belongs to "one China."
Ashes of war | Torched homes and ruined farms are the bleak scene that thousands of South Sudanese civilians are confronting as they return home after a war that at its height rivaled Syria for the dubious title of the world's worst conflict. As Okech Francis reports, pillaged towns and villages show the scale of the challenge to rebuild the East African nation with sub-Saharan Africa's third-biggest oil reserves.
Trump today threatened to permanently close the U.S. border with Mexico after escalating tensions prompted his government to temporarily shutter one of the world's busiest points of entry.
Gregory Viscusi takes a closer look at the threat that the "yellow vest" protesters who swarmed the Champs-Elysees last weekend pose to French President Emmanuel Macron.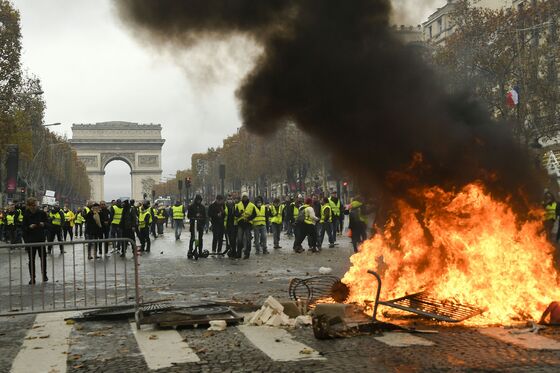 And finally ... As world leaders prepare to descend on the Argentine capital for this week's G-20 summit, soccer violence is raising doubts about whether Buenos Aires is ready. The South American championship game between archrivals Boca Juniors and River Plate was postponed to an as-yet unspecified date after River supporters threw rocks and bottles that shattered the windows of a bus carrying Boca players. The government, which is touting the G-20 meeting as proof the country is back on the map after 12 years of populist rule, is taking no chances: it's deploying 22,000 guards and shutting down the area around the event.